Will any immigration lawyer be a good choice? Is the first Google result the right decision? As you will see in this article, no. There is much more you should consider. Choosing your immigration lawyer carefully may be more important than you think, especially if you want to avoid legal problems and denied applications. That is why today we are bringing you 7 tips that will really help you make the right decision. So let's start!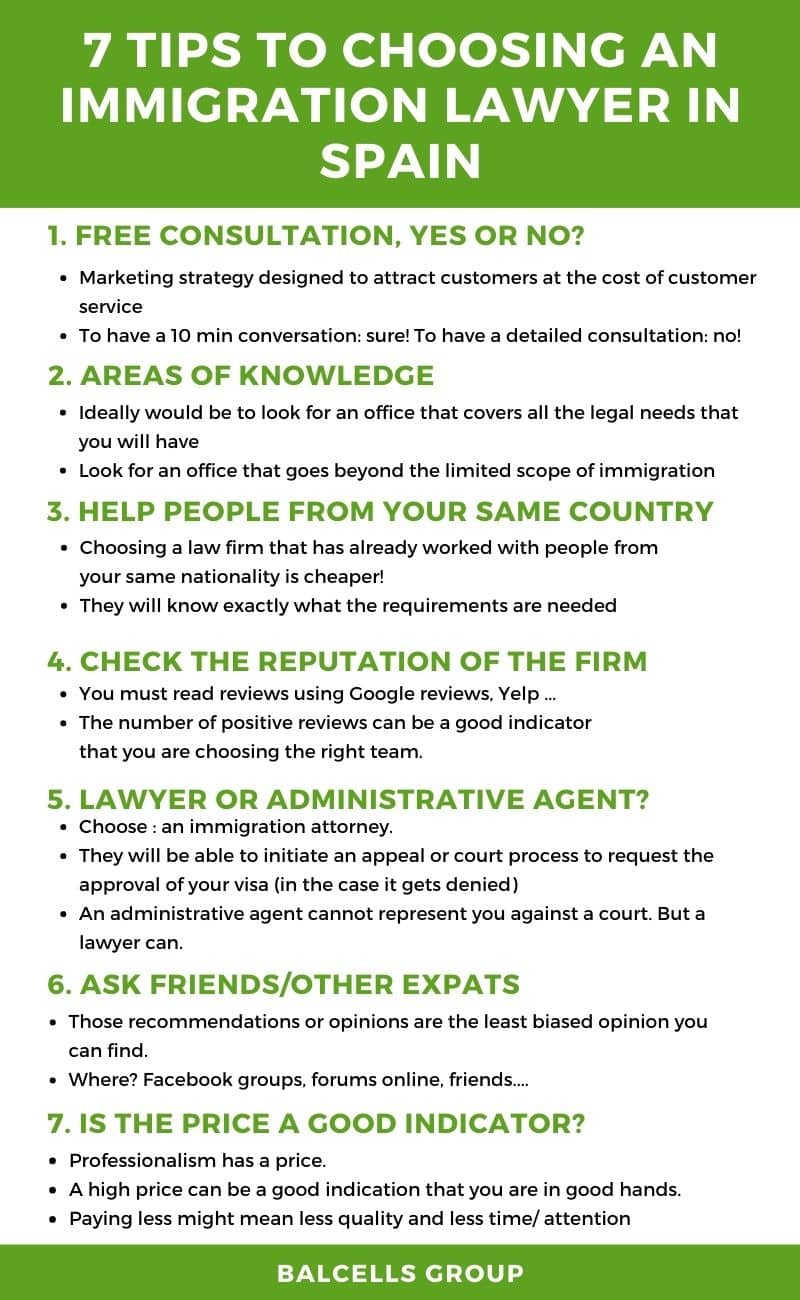 1. Free consultation, yes or no?
Without a doubt, one of the most important points to consider.
When you start looking for the right information to move to another country, things can get a bit complicated. Too many laws, too many visas… which is the right for me?
That is why having a first initial consultation is something totally beneficial to understand how does the Spanish immigration law works and what options do you have to settle in Spain with your family. It clears your doubts. 
Thus, many lawyers offer the first consultation completely for free. And that sounds really good! Solving all your doubts at cost 0.
But… for real? Well, maybe it's not as ideal as it seems.
In the vast majority of occasions, the free consultation system is a marketing strategy designed to attract customers.
The company offers a free consultation to get as many people as possible. But what we often miss is that it will come against good customer service.
If you want a 10-minute conversation with a lawyer who will only give you generic answers… Go ahead. Choose the office that offers the free consultation.
However, if what you are looking for is to understand what options you have according to your particular situation or what are the detailed steps to get your residence permit; paying for a consultation shouldn't be a problem.
At Balcells Group we charge € 50 for a consultation (either online or in our offices).
Why? Because we feel that the price justifies the quality of the service we are providing.
If we have to spend two hours until the client perfectly understands how to solve their situation, we will spend them.
When it comes to immigration, each person is a completely different world.
And that requires reviewing, in great detail, what is established in each of the applicable provisions of the law in order to give concrete answers.
A consultation requires preparation and time. And that is not something you will have in a free session.
2. Areas of knowledge
A crucial step you should always take before taking hiring an immigration law firm is to know if they only specialize in immigration or if they also offer services in other areas of the Spanish law.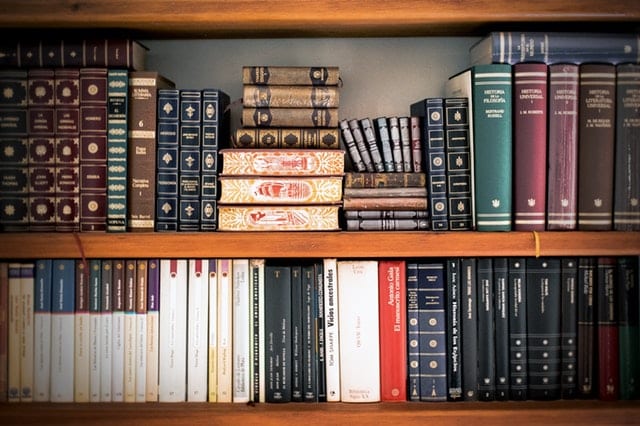 Why is this so important?
Because, in most cases, you will need much more than just getting your visa.
Maybe you want to set up your company. Or maybe you would like to understand your tax situation as a foreigner in Spain and define which taxes you will have to pay once you settle in this country (which you can find here, by the way).
Or, conversely, there are permits such as the golden visa that require the purchase of a property. It is undeniable that if your immigration attorney, in addition to helping you get the residency, can also help you manage whole property transaction, you are much more secure.
Thus, having the experience of a team that offers a complete solution, covering all the legal needs that you will have as a foreigner living in Spain, is essential.
After all, after having handled hundreds of application procedures, an immigration lawyer has mastered the process.
So trusting an office that only focuses on immigration does not offer great advantages when it comes to specialization.
But an office that can help you with all your legal needs is a real advantage.
Thus, in order to have all possible eventualities covered (being taxes, business, real estate, etc.), look for an office that goes beyond the limited scope of immigration.
3. Verify that they usually help people from your same country
It is absolutely true that residence permits for non-European citizens are the same for everyone. And it is also true that the requirements to obtain each of them are set by the immigration law in general and do not depend on the applicant.
However, it is also true that there may be certain discrepancies regarding the requirements requested by each Spanish consulate.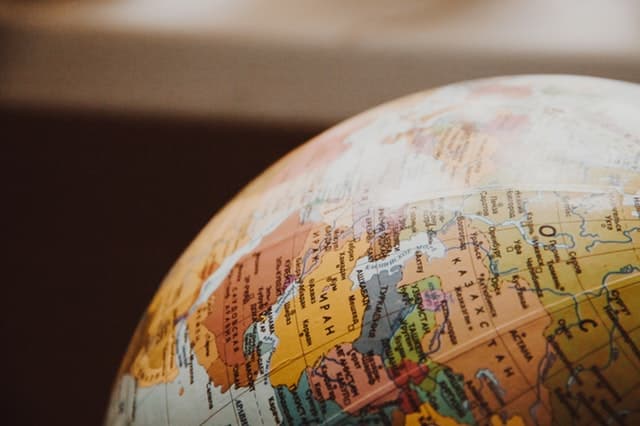 Take the case of the non-lucrative residency visa. 
The general law establishes that it is necessary to prove the possession of € 26,000 (at least, in a bank account). But, if you apply for this visa at the Spanish consulate in Moscow and only prove that amount, your application will be rejected.
Why? Because in thas specific case they ask for an amount of over € 35,000.
And hence the importance (in large part) of choosing a law firm that has already worked with people from your same nationality.
Having had experience with the consulate of your country, they will know exactly what the requirements are according to your particular case and how you and your family must proceed in order to get your visa effectively.
Another one of the situations in which getting a generic answer, although cheaper to obtain, can turn to be expensive.
4. Check the reputation of the company (read reviews)
Years ago, the only way we had to verify if a company was reliable or not was to ask friends or acquaintances about their experiences with that business.
However, this presented many limitations. First of all, it was unlikely to meet someone who had had contact with that particular company. Second, perhaps one particular case was not significant enough to draw conclusions.
But today that is no longer a problem.
There are many online platforms where we can find the opinions of other past clients, such as Google reviews, Yelp or any other similar sites.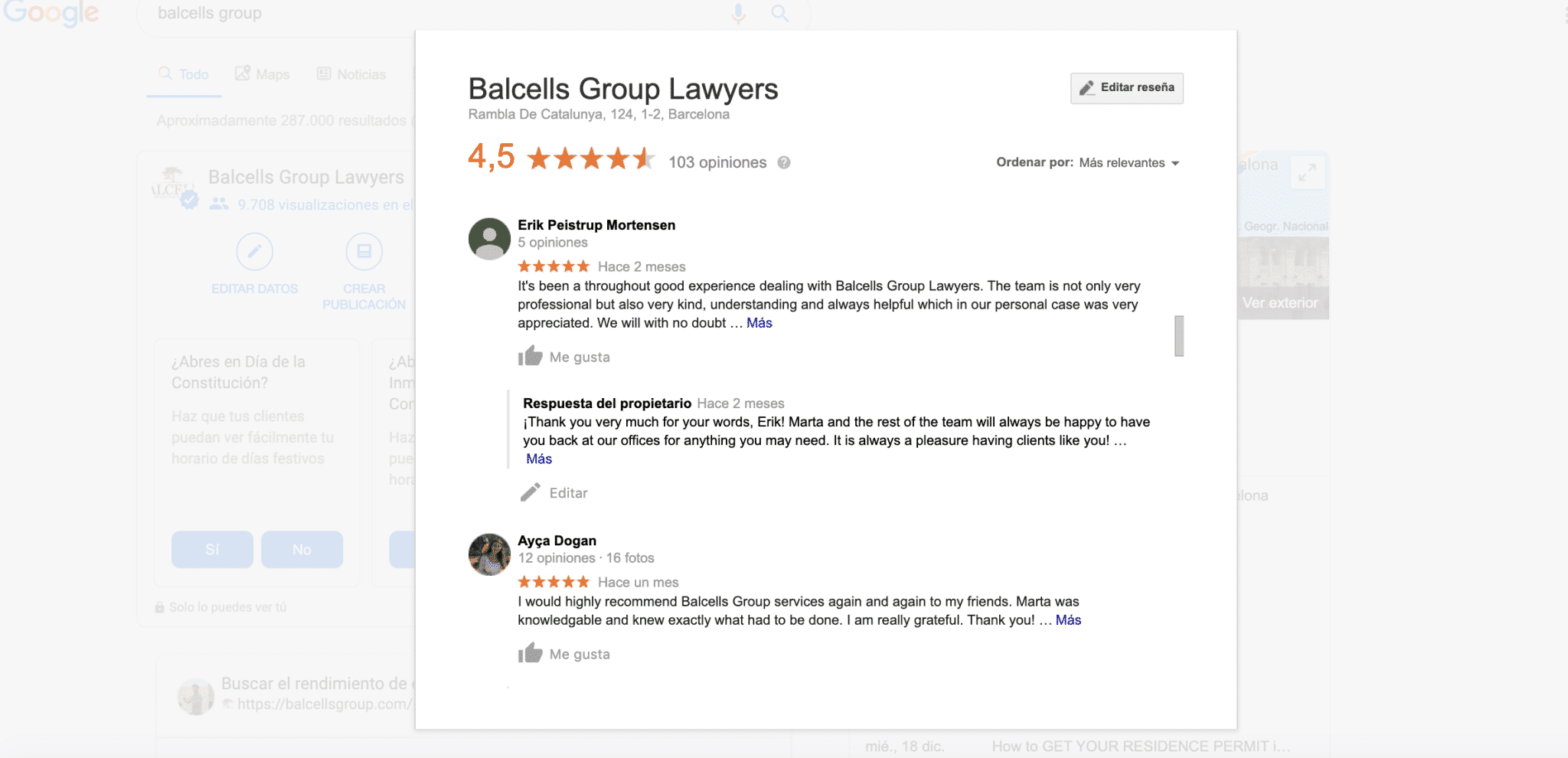 It is the best way to know the opinions of others like you, people who have already experienced how customers are treated in that specific office.
So the number of positive reviews can be a good indicator that you are choosing the right team.
We also recommend not taking single review as a reference. It is much better to skim across all of them.
Obviously, all companies will have some dissatisfied customers.
That is why letting yourself be influenced by a single negative review is also not ideal.
5. Lawyer or administrative agent, what is better?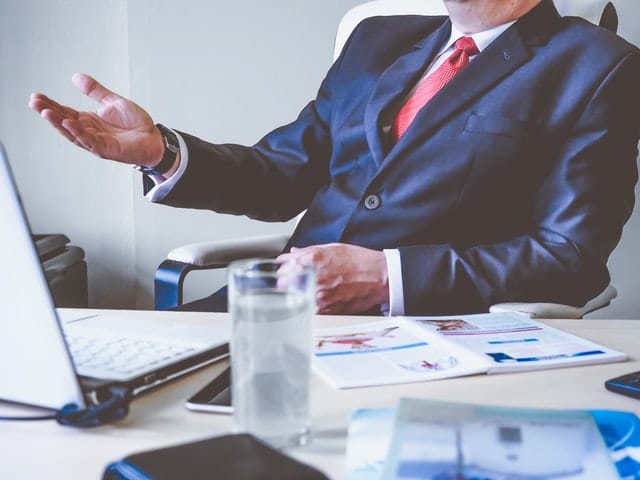 Another frequent question is whether it is better to hire an administrative agent (called "gestor" in Spain) or a lawyer to manage the application procedure.
Although an administrative agent can process your visa application in the same way as a lawyer, it may not be the recommended option.
Why?
Because the former's task ends once the application file has been sent to the Spanish consulate in the country of origin or relevant immigration office.
The problem arises in case that the application gets denied. Something that certainly happens many times.
That's when having chosen an immigration lawyer was the right choice. Because an immigration attorney will be able to initiate an appeal or court process to request the approval of your visa.
To put it simply, an administrative agent cannot represent you against a court. But a lawyer can.
6. Ask friends/other expats
There is no doubt that those who can give you a more true and real opinion about the service offered by a particular company are the people closest to you.
It is also very likely that a friend or family member has already moved to the country where you want to start your new life. This creates a great opportunity to ask for references when choosing a lawyer.
It will undoubtedly be the least biased opinion you can find.
In addition, another good recommendation is to seek for references in expat forums online. 
Nowadays, there are hundreds of expat communities on Facebook created with the sole purpose of helping each other when moving abroad.
That is the perfect place where you can ask for recommendations or opinions.
And not only to choose a lawyer, but these communities can also help you choose the best bank, house to buy or where to sign up for your leisure activities. Besides being the best place to meet new people!
Simply search in Facebook "expats in Spain" or and you will see the large number of results that appear.

7. Use the price as guidance: is it a good indicator?
We may be tempted to choose the lowest price.
After all, who wants to pay more?
However, and as in many other things in life, you get just what you pay for.
Nowadays, there are hundreds of immigration attorneys offering their services at a much lower price than their competitors.
This helps them get more customers. But it is also true that, the more customers they have, the less attention they can pay to each of them.
But there is another point, perhaps more important, that price can indicate.
In the same way that an expensive car offers greater reliability and quality than a cheap one; when it comes to immigration, it is exactly the same.
Professionalism has a price. And when it comes to moving to another country and solving all the legal issues that this implies, you shouldn't risk it.
Perhaps it is one of the most important pillars in your new life as an expat, so ensuring quality minimums and making sure that you have made the right decision will be essential. Thus, a high price can be a good indication that you are in good hands.
If you have any additional questions or want to know how our team of lawyers can help you out, do not hesitate to contact us. We will charge you for a consultation, but we can promise you the highest quality of service and totally personalized attention.
Book a consultation with one of our lawyers and solve all your doubts: