Would you like to travel and bring your pet to Spain from abroad? In this article we will show you how. We will go over the main immigration laws for animals, as well as all the requirements you will need to meet to bring it and enter the country without any trouble.
Whether it is because you are going to start living in Spain with your pet or because you are going to be on holiday for a while, traveling with your dog means that you must take into account the corresponding animal law.
Entry denial for not complying with all legal requirements is commonplace. That is why in this article we will cover them all in great detail so that you can avoid them.
Spain, a country for pets?
Before we start with the immigration requirements that will allow you to enter the country with your pet, let's first understand if Spain is the ideal country for that.
We will use the example of the dog as it is the most common animal to live with.
One of the main attractions of this country is its climate. Warm temperatures all year round, especially in summer if you move around the Mediterranean coast and the center of Spain.
And although this is something idyllic for tourists, for your dog it won't be that idyllic: it will be very hot.
That's why if you're going to take your pet with you, we recommend visiting Spain in autumn or winter; or moving around in the north of the country (as it's cooler there all year round).
Galicia, Asturias, or the Basque Country are areas with a lot to offer and ideal for your dog.
On the other hand, in this case, you will have to plan your trip a little more than usual.
Many restaurants, hotels, and major historical attractions do not allow access to animals, so finding those that do (and sometimes it is not so easy), will become crucial.
But not everything will be so complicated: nowadays there are many hotels where the protagonists are the dogs, having been created for them (and not so much for the owners). In any of these hotels, you will be able to stay in a very comfortable way.
How can I transport my pet to Spain?
Let's see the requirements that you must meet to enter Spain with your pet, taking into consideration all the relevant immigration laws.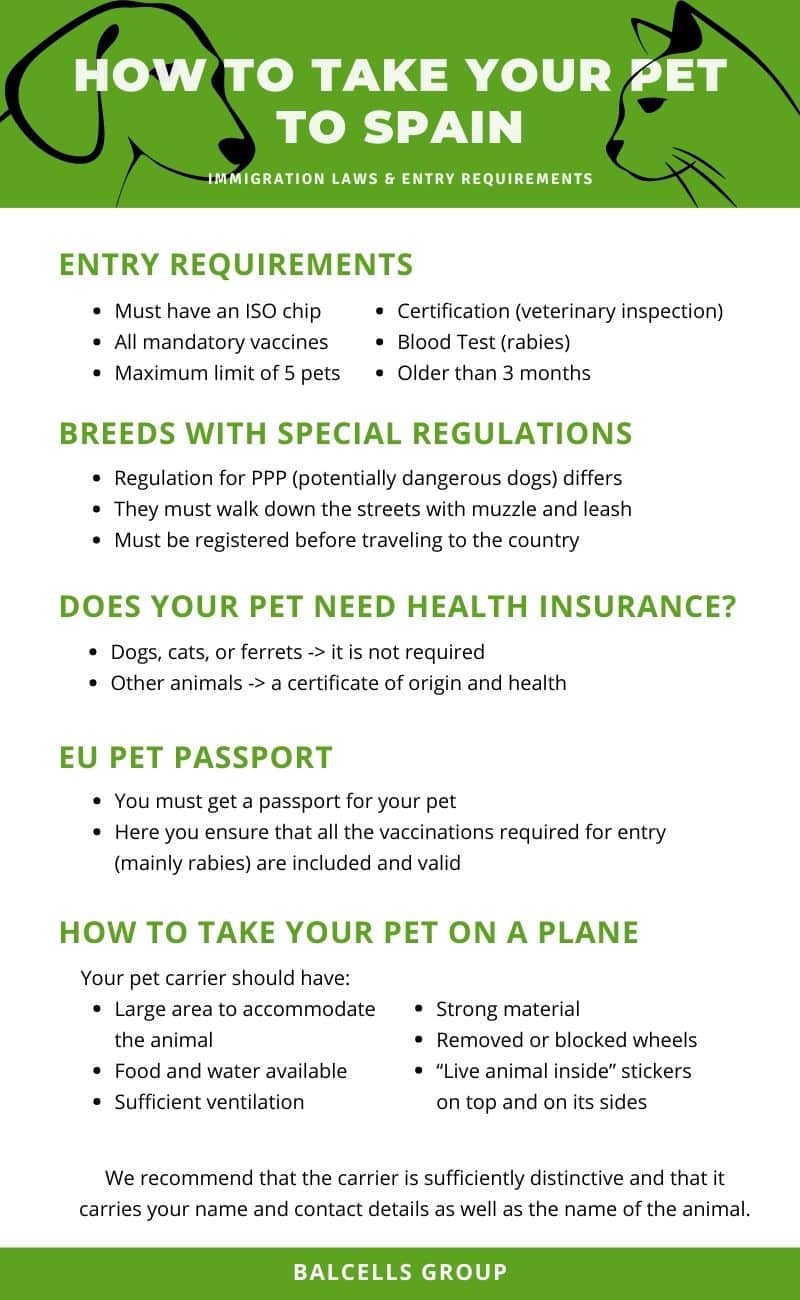 Entry Requirements
What requirements must your pet meet in order to enter the European Union without any problem?
Firstly, it must have an ISO chip, which ideally complies with regulation 11784/11785.
On the other hand, there are vaccine issues. Your pet must have been vaccinated against rabies and other similar diseases within 1 year and 21 days before traveling to Spain. In addition, if it was vaccinated before the microchip was inserted, it must be re-vaccinated: it won't be valid. This vaccination record will be included in the animal's passport.
Unless we are talking about animals such as reptiles, birds, tropical fish, rabbits, and invertebrates, whose requirement will not be the rabies vaccine, there is another limit: now regarding the number of animals you can bring with you. There is a maximum limit of 5.
However, a certificate of compliance is not required in any case.
If they are less than 3 months old (and therefore not vaccinated), they cannot enter any EU country. As mentioned above, a rabies vaccination is another essential requirement, and not having one will result in refusal of entry.
In any case (whatever the breed, species, and age), the animal must have a certification received after veterinary inspection. If you come from the United States or Canada, a veterinarian accredited by the USDA must carry out the procedure. For any other country, it will be the government in question with its relevant institution in charge.
If the animal comes from a country highly affected by rabies, a blood test must be done between 1 and 3 months before entering the Spanish territory.
Breeds with special regulations
Some breeds of dogs considered as aggressive are forbidden to enter the country.
The regulation of breeds considered as PPP (potentially dangerous dogs) differs according to the particular autonomous community.
But in all the cases, they must walk down the streets with muzzle and leash. We are talking about rottwerilers, Argentinean dogos, Staffordshire terriers, pitbull temieres, and tosa-inus, among others.
Dogs pertaining to those breeds must be registered before traveling to the country. And as far in advance as possible, in at least 3 months.
Does your pet need health insurance?
It depends.
In the case of dogs, cats, or ferrets from countries outside the European Union, a certificate of origin and health is not required. A passport signed by a veterinarian is sufficient.
However, there are other animals that do require one, and the procedure will be different depending on the type.
The specific conditions are stipulated by the Ministry of Agriculture, and here you can find that information according to the particular species.
EU pet passport
In the case of wanting to enter any country in the European Union with your animal, you must get a passport for your pet.
This is the so-called EU pet passport.
This passport includes, among others: the name of the animal, its address and owner; species description, breed, gender; the history of vaccinations and veterinary checks, plus its microchip data.
It is here that you must ensure that all the vaccinations required for entry (mainly rabies) are included and valid within the time specified time range.
How to take your pet on a plane to Europe
This is certainly another key point in the process.
How should the animal travel, especially if it is an airplane?
The IATA (International Air Transport Association), specifies the conditions that any pet carrier must meet. This information is valid for Spain and for any other EU country.
Basically, you must make sure that your pet carrier: 
Has a surface area large enough to accommodate the animal, so that it can stand up and turn around.
Has food and water available for the entire trip in a bowl.
It has sufficient ventilation.
The material it is made of should be strong enough.
If it has wheels, they should be removed or blocked so that the carrier does not roll.
You should add "live animal inside" stickers on top and on its sides.
The vast majority of airlines have subscribed to this regulation and accept it as valid, so these are the general guidelines to which you must subscribe to.
We recommend that the carrier is sufficiently distinctive and that it carries your name and contact details as well as the name of the animal. This will allow you to always locate your dog and claim its ownership in case of any incident.
For trips of less than 10 hours, usually, the airline will always let you have your pet with you, as long as it is a small dog or cat. And how do we define what is small? By its weight: 8kg is the maximum.
Otherwise, the animal must travel in the hold, in specific sections with adequate ventilation and conditions.
Keep in mind that you will need to talk to the airline first, and buy a special plane ticket to transport your pet or pay an extra price.
In addition, there are some airlines that do not allow the travel of certain dangerous species. That's why we recommend that you consult directly with your airline's customer service department to understand the specifics.
Other frequent asked questions
Finally, let's go over the main questions that foreigners ask when traveling to Spain with their pets. Knowing the answer will be totally useful and will save you problems!
Can you take your dog to the beach in Spain?
On the vast majority of them, you can't.
However, more and more coastal regions of the country are creating specific beach sections designed for dogs.
One pioneer example is Barcelona, with several of these beaches being very popular.
Can you travel with your pet on public transport?
As a general rule, no. Unless it is a guide dog, you cannot take your pet on public transport.
However, on some trains in particular, it is possible to transport them as long as they are small and go in a carrier.
Is there a maximum number of pets I can bring into the country?
Yes, in the case of Spain you can enter with a maximum of 5 animals. However, if you are traveling for commercial purposes (for a show or competition), then it is possible to increase that number.
If I travel to other European Union countries, are the requirements still the same?
Yes, the requirements have been harmonized by consensus between all EU countries, so they are basically the same as in the case of Spain.
And if you still have doubts…
Then get in touch with us! Our team of lawyers will advise you on everything related to with immigration and entry laws in Spain. We are at your disposal 24/7: