Yesterday, 4th of July, was a great day for our lawyer office. Yesterday was a real depiction of how dynamic and emotional can be to live on a daily basis on the first floor of the 124 door of Rambla de Cataluña (Barcelona), the flat that Balcells Group occupies. We went to a wedding! We had the great opportunity to accompany Jean and Fernando in their formation of a civil partnership in Barcelona. And we want you to also live that experience.
Their Story: Why did they constitute a civil partnership?
After three years and a half of relationship, Fernando and Jean considered it was time to embark on the next big step and enter into marriage. Without no doubt, it was the best way to consolidate their huge affection and feelings that existed (and exist) between them.
And, then, which is the role of our international lawyers team here in order to help them in the process? For that purpose, we first need to understand which are the origins of each of the two. While Jean is originally from Panama, Fernando is Italian. Nevertheless, being in love with the enchantments that Barcelona carries around, they decided to get established in the Mediterranian city in order to live here.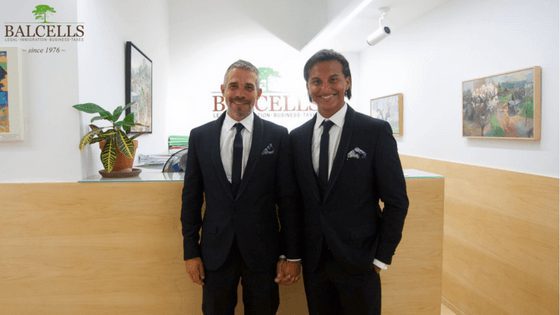 Likewise, through the formalization of a civil partnership, Balcells Group can now help Jean get the residence permit in Spain, as he is now a relative of a European citizen who is resident in the European Union (Fernando).
¿Which is the utility of this Spanish residence permit? Well, thanks to that, Jean will be able to live and work with the exact same conditions as a Spanish citizen in this country.
The Growing Trend of the Gay Marriage in Spain
Since the approval in 2005 of the gay marriage in Spain, the total amount of registered unions has not stopped growing ever since. And that is something we live firsthand at Balcells.
Fernando and Jean are just an example of the many couples that come to our lawyers' office to register a gay civil partnership. And that is something we are really thrilled about.
So much so that we really encourage all of those who are currently in a similar situation as them and are considering taking that next step, especially when it is about an international couple who wants to live in Spain, because nearly all the legal inconveniences vanish thereafter.
In order that you can also experience the magic moment…
Have you ever been to the formalization of a pareja de hecho? Don't worry, we recorded everything. What is next is the video of the union of Jean and Fernando, do not miss it!
Do you have any doubt regarding how to constitute a legal partnership in 2019?
Then, if you have any doubt about how to constitute a civil partnership or which are the requirements to form a pareja de hecho, you will find all the related information on our website. Will you dare to take that step?
Book a consultation with one of our lawyers and solve all your doubts: