Spain is probably a common bucket-list destination for most people. With its sunny skies, charming streets, vibrant culture, and happy people, it's an easy choice.
But beyond these stereotypes and first impressions, what else is there to know about Spain? What has happened in Spain's history? How has this history affected how Spain is today?
What other things are there to enjoy aside from the popular tourist spots?
Here you have 15 interesting facts about Spain that will make your travels even more meaningful, or will help you immerse better if you are relocating to the country. 
15 Surprising Things About Spain
We already have general and commercial ideas about Spain, but behind these are layers of history, tradition, and culture that have shaped the country and continue to do so today.
Let's look into these layers, as they offer a lot of information. Information that is not only interesting to know, but would also bring more value to your journey, whether it is just for the holidays or long-term. 
Spanish is the 2nd most widely spoken language in the world
Don't be surprised if you're walking around Barcelona and hear locals speaking a language other than Spanish! 
Spain is the second largest country in the European Union, with the fifth largest population in Europe. And to add to that, Spain's history is one of many colonies. This has led to Spanish being the 2nd most widely spoken language in the world.
Like any other language spoken globally, the Spanish that is spoken in Spain, Castellano, differs from the Spanish in Latin America, for example.
It is important to note, however, that even within Spain, Spanish is not the only official language. You have Gallego in Galicia, Catalan in Catalonia, and Euskara in Basque Country.
That is why, when applying for citizenship, some autonomous communities require you to know some of their language. For example in Catalonia, aside from speaking a certain level of Spanish, you also need to take a 45-hour course in Catalan. This may sound intimidating, but it's not difficult to do.
And if you speak 0 Spanish, you can always enroll in any of the many Spanish courses and obtain your student visa in the country. 
Spain has a royal family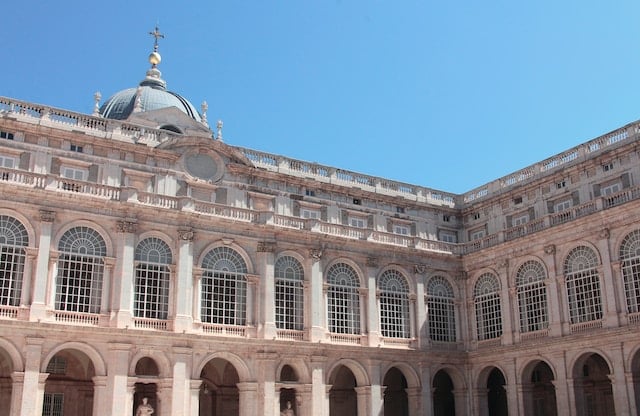 Don't be shocked if you see a princess in Spain!
A royal family? You mean like a king, queen, princes, and princesses? Yes, exactly.
Today, the country has King Felipe VI, Queen Letiza, and their two daughters, Leonor, Princess of Asturias, and Infanta Sofía of Spain. The Royal Palace is located in Madrid, and is open to visits.
However, Spain is a constitutional monarchy. This means that royalty does not have absolute power and instead exercises it in accordance with a constitution. So aside from the royal family, there is also Pedro Sánchez, the president of Spain.
Spanish people do not consider paella as Spain's national dish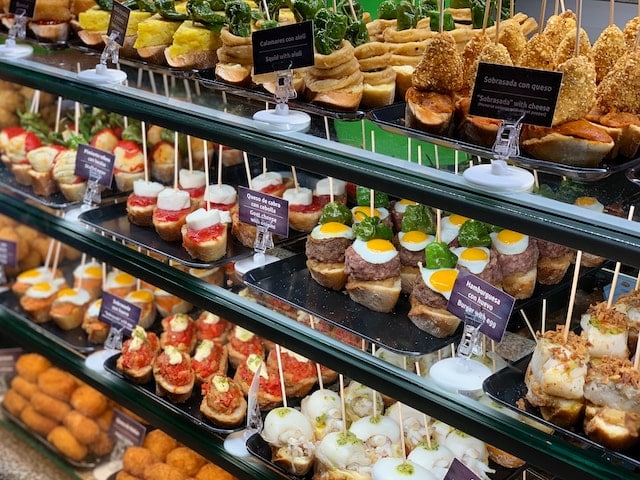 Don't be confused if you go to a Spanish lunch and don't see paella on the table… 
Many foreigners may think Spain's national food is paella, but most Spanish people actually consider it more a Valencian plate, as it originated from there.
Aside from paella, there are so many traditional Spanish dishes to try. Tortilla de patatas (Spanish omelette), croquetas, patatas bravas, etc. Your stomach will definitely thank you.
To Valencians, to say paella usually refers to the paella valenciana, which consists of round-grain rice, rabbit, chicken, garrofó (lima bean), and saffron. Other dishes containing rice are usually called arroz, for example arroz negro.
Even though Valencia is mainly known for its Paella, aside from that it is also a lovely city to reside in. It's a coastal city that combines exciting city life and calming beach vibes – and it's affordable! If you want to know more about Valencia and the best cities in Spain to live in as a foreigner, click here. 
47 UNESCO World Heritage Sites in Spain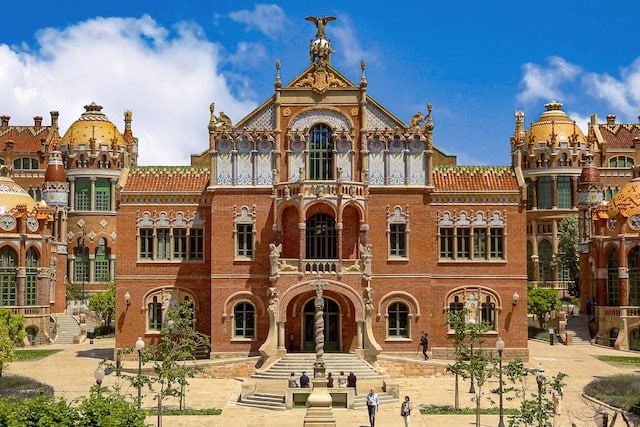 Don't be surprised to discover you live a train ride away from a heritage site!
Spain has the third highest number of UNESCO World Heritage Sites in the world. Visit the Alhambra in Granada, Hospital de Sant Pau in Barcelona, Teide National Park in Tenerife, the Aqueducts in Segovia, or check out one of the lesser-known sites.
There are heritage sites spread out all over the country, so wherever you are, there would definitely be one to visit or even stay in.
Spain has some of the oldest things… 
Don't miss the opportunity to eat in a 300-year-old restaurant!
Spain is bursting with culture, and there is something for everyone.
For literature enthusiasts, Don Quixote by the Spanish author, Miguel de Cervantes, is considered the first modern novel. You can visit his childhood home in Alcalá de Henares.
If you are a foodie, the world's oldest restaurant, Restaurante Botín, is in Madrid. It has existed since 1725 and has seen many notable personalities. Famous Spanish artist Francisco de Goya worked here as a dishwasher, and Ernest Hemingway enjoyed some meals here, and even writes about the restaurant in his novel Fiesta.
For artists, many of the world's favorite painters come from Spain. You have Pablo Picasso from Malaga, Salvador Dali from Figueres, Diego Velázquez from Sevilla, and Joan Miró from Barcelona. A lot of their works are preserved and available for viewing in numerous museums around the country.
Morning Lasts Until 2 pm
Don't be alarmed if someone greets you a good morning at 1 pm in Spain…
In Spain, the concept of noontime is usually around 2 pm. That is why, you'll hear people saying "Buenos días" until 2 pm, and find that people usually have lunch at this time. Dinner then usually happens at around 9 pm. This different perception of time may take some getting used to as a foreigner in Spain, but it's not so bad!
You may have also heard of siesta (nap) hour in Spain. Nowadays, especially in big cities, people (aside from toddlers or the elderly) don't really sleep during siesta hour anymore. However, some shops and establishments still close at this time (2 pm-5 pm) to have lunch and get some rest.
Something else that might shock you about Spanish time: banks are only open until 2 pm on weekdays, and are fully closed on weekends. Groceries are normally closed on Sundays, too. Spanish bureaucracy can also be slow, so plan ahead! Ask our lawyers if you have any doubts about legal processes in Spain.
45% of the entrepreneurial population is female!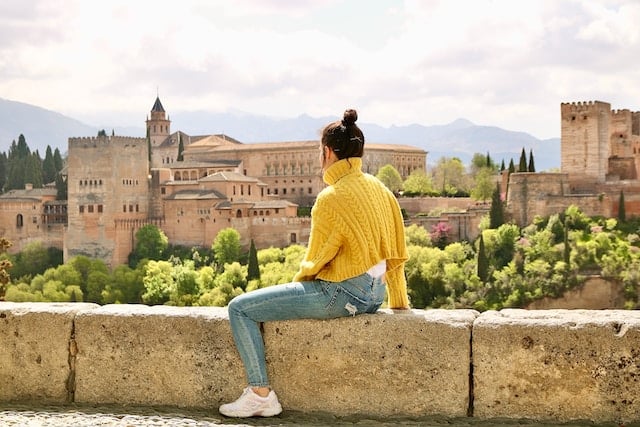 Don't be shocked to discover many women-led start-ups in the country!
Over the last decade, the gender gap has decreased by over 30%. According to the Gender Equality Index, Spain scored 74.6 points out of 100, which is 6 points above the EU's average score. This gives Spain a rank of 6th in the European Union.
There is definitely still a lot of room for improvement, even if statistics show that 45% of the entrepreneurial population in Spain is female. With the implementation of the Entrepreneur's Law in Spain, this percentage could improve even more.
And there is no doubt a good amount of those female entrepreneurs are foreigners. That is mainly because it has become a lot easier to apply for Spanish residency through an entrepreneur visa. If you would like to explore this option and put up your own business in Spain, click here. 
Nudity is legal
Don't be worried if you see a nude person sunbathing on the beach!
Something that may surprise you is that nudity is actually legal in Spain. But do not fear, you certainly will not enter a shop seeing a group of naked people walking around. This is definitely deemed inappropriate.
However, there are many naturist beaches around Spain, and these are places of respect and safety.
Some Spanish practices may be totally new to you, so if you would like to learn about some things you should know before visiting the country, we've got you covered here. 
For 800 years, Spain was Moorish Land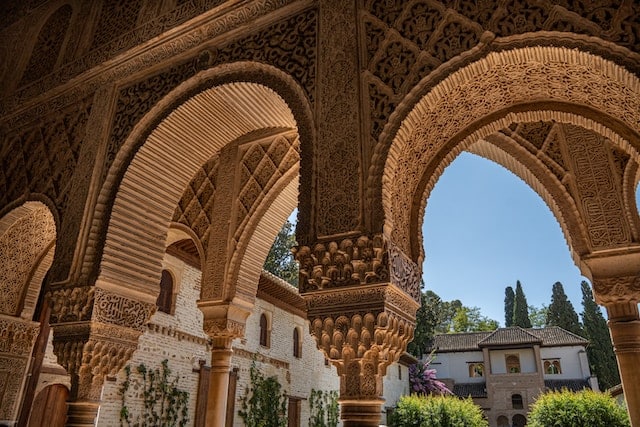 Don't be confused to discover Moorish buildings in Spain…
A little bit of Spanish history and geography… Below Spain on the Map is Africa. In 711 AD, the Moors moved up to Spain and occupied the country for 8 centuries. The heart of Moorish rule was in the South of Spain. It was called Al-Andalus, which today is known as Andalucía.
That is why you will see the most Moorish influence in architecture in the South of Spain. Moreover, 4,000 Arabic words are now part of the Spanish language. All words beginning with "al" are of Arabic origin.
However, due to the geography surrounding Basque Country, the Moors were unable to invade this area. The Basque were able to preserve their culture, and language, Euskara, which is one of the oldest languages still spoken in the world today.
You will find that within Spain, there are many regional and cultural differences such as these, and each place is unique. If you wish to really immerse yourself in Spanish culture and know the country, perhaps the Digital Nomad Visa is for you. Read all about it here. 
The Canary Islands are Closer to Africa than Spain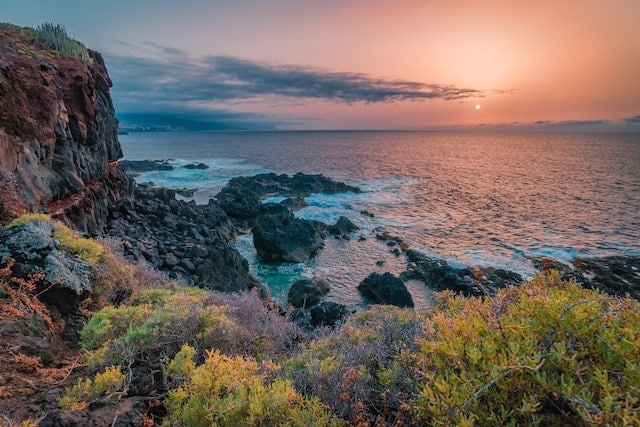 Don't be shocked to find that the Canary Islands are in a different timezone…
We already know that the Spanish Peninsula is a great place to enjoy the beach. It has around 300 days of sun in a year and 8,000km of coastline. Costa Blanca, Costa Brava, Costa del Sol, Costa Dorado, and Costa de la Luz are just a few of the many coasts you can enjoy.
But if we travel outside of the peninsula and down the map, we will reach the Canary Islands. Here, you will find an even warmer climate, more sun, and a completely different landscape as it is closer to Africa and a volcanic archipelago. The natural environment is thriving and offers the perfect place for, not only relaxing, but also adventure sports such as surfing, paragliding, diving, and more.
This makes it a great location to retire in or spend a gap year in without working. If you would like to explore this option, check out the Non-Lucrative Visa, the right residency for you.
Largest fresh produce market in Europe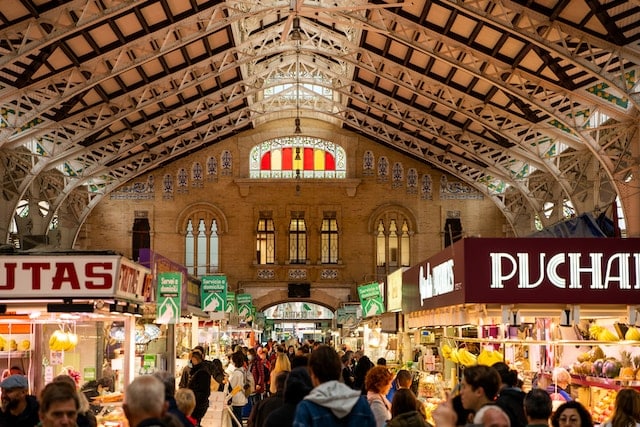 Don't be overwhelmed when you see how huge Mercat Central is…
Calling all those who love to cook and eat! If you travel to little Valencia City, you will find Europe's largest fresh produce market. Mercat Central boasts more than 1200 stalls, and is situated in the city's charming old town.
On a bigger scale in terms of produce, Spain is the world's largest producer and consumer of olive oil. In January 2022, Spain produced around 7682 tons of olive oil. 
Spain Hosts the Biggest Tomato Fight Every Year
Don't be worried if you hear about people throwing tomatoes at each other…
Every year, on the last Wednesday of August, the town of Buñol hosts the La Tomatina Festival. This is basically a huge tomato fight using overripe tomatoes. It's uncertain exactly how this tradition started, but it has been going on for over 50 years.
Another interesting festival is the Romeria de Nuestra Señora de la Cabeza. It is celebrated at the highest point of the Sierra Morena, and has been taking place for almost 800 years.
Many towns in Spain have unique festivals and practices. People are proud of their pueblos and if you are invited to visit one with a local, make sure to go and not lose the opportunity.
Spanish People Have Two Surnames
Don't be confused when you see a Spaniard write his name…
When applying for a Spanish visa or residence permit, you will usually see two boxes to fill out: first last name and second last name. Normally, it is fine just to fill out the "first last name" box, with your last name.
This is because Spanish people legally have two last names. The first one is the last name of the father, and the second is the last name of the mother.  If you are a woman and you marry, your last names change to the first being that of your husband, and the second being that of your father.
If you are a woman marrying a Spanish citizen, you would also have two last names in this sense. Read about mixed marriages in Spain here. And if you don't want to get married but would like a civil partnership, there's also the option of pareja de hecho.
Spain is moving towards renewable energy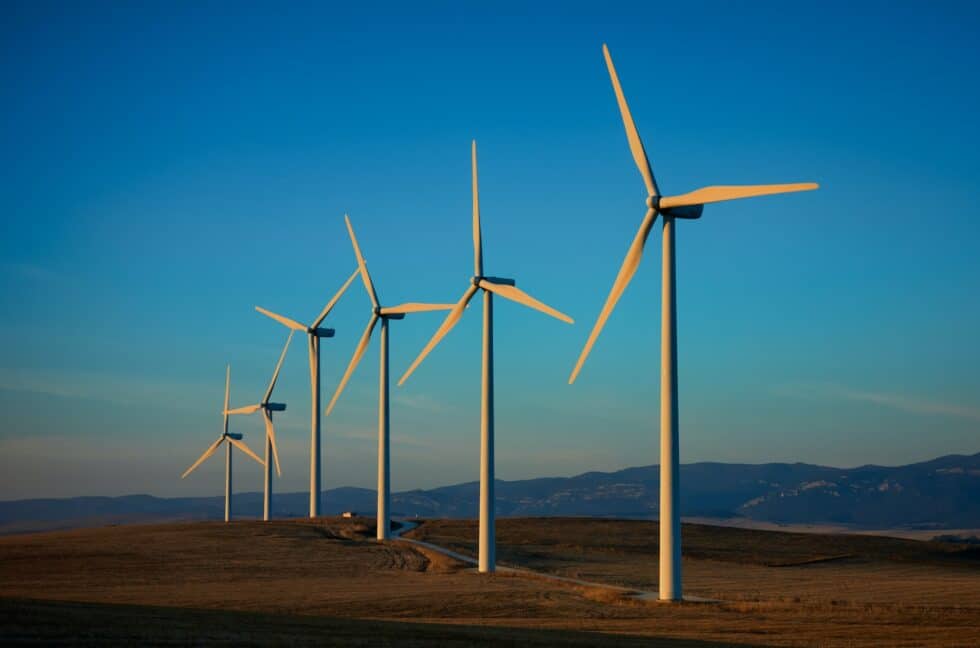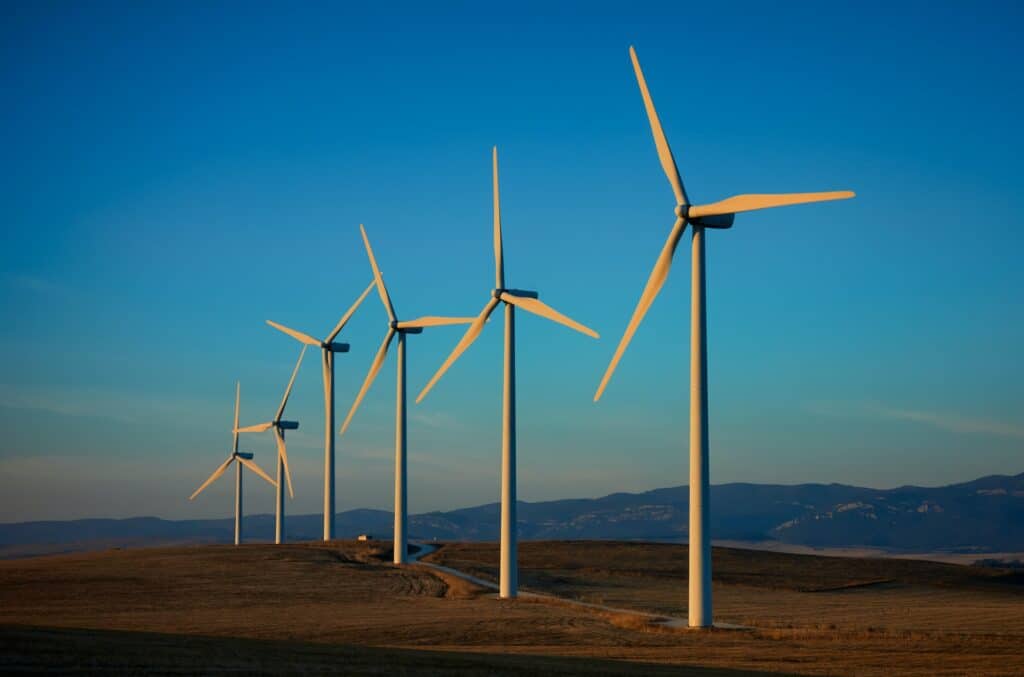 Don't forget to look out your window while traveling across the country, you might see huge wind turbines!
ENTSO-E data shows that in 2021, mainland Spain generated the second-highest amount of wind and solar power in Europe. In 2013, it was also the first country in the world to have most of its electricity produced by wind power.
You will also find many cities in Spain trying to create more walkable and bike-friendly streets. For example, Sevilla has 180km of bike lanes!
You can create an SL online with just 1 Euro
Don't waste that 1 euro coin in your pocket!
Prior to the implementation of the Create and Grow Law, one needed a minimum share capital of 3,000 Euros to put up a limited liability company (SL). Now, one only needs 1 euro.
As always, there are pros and cons. With 1 euro you will definitely be saving a lot of money, but you may be less attractive to potential investors. Moreover, even if the minimum now is 1 euro, you will still be encouraged to reach at least 3,000 euros, as 20% of the company's profits must be allocated to legal reserves until shared capital and legal reserves reach a total amount of 3,000 euros. 
If you would like to learn more about setting up a company in Spain, you have all the information you need here.

Are you interested in experiencing these facts in the flesh?
We have only touched the tip of the iceberg with these 15 facts about Spain. There is a lot more to learn about the country, and, for sure you will experience things unique only to yourself.
But one thing is clear, Spain is a country that has a lot to offer to travelers, tourists, and expats. Whether it be visiting Spain short-term, or wanting to obtain residency long-term, we can assist you on your journey of discovering the country (and maybe even yourself).
Our immigration lawyers would be eager to help!
Book a consultation with one of our lawyers and solve all your doubts: