Things have changed. Working is not how it used to be. We are now a global nation. And that has created a new way of living, a new lifestyle based on zero boundaries. The internet and more flexible work conditions have enabled to create a generation of digital nomads, individuals who travel to new countries while working totally online.
And there is no denying that Spain is the ideal place for that. But this can pose a problem: where exactly in Spain should I move as a digital nomad? The country offers a really varied landscape, and there is no city like each other. So how to choose?
In this article, we will offer the final solution. We will go over the best cities in Spain for digital nomads, after carefully analyzing what the ideal hotspot for a nomadic lifestyle must offer.
What makes a city an ideal place for a digital nomad?
In order to answer this question, we need to first understand which are the professional profiles that adopt a nomadic lifestyle.
Even though we mainly find freelancers (like digital marketers, social media managers, copywriters, etc.) or individuals who own a company, that is not the full story.
Nowadays, more and more businesses are allowing their workers to work abroad. This would be the case of website developers, UX and graphic designers, data analysts, and other remote workers.
So, what do they have in common? What does the city they choose need to offer them to enjoy their lifestyle?
Good Wifi and internet connection
That is an essential requirement.
Without an internet connection, they can't work. And work is what enables them to live abroad.
That is why a digital nomad always seeks a place with good wifi connections. And we are not only talking about a wide offer of bars and coffee shops with Wifi, but the availability of renting houses with a fast internet connection and optic fiber is also essential.
Besides, cities with Wifi connection at the street level also become succulent options, as 1-hour breaks working while seated in a park are totally refreshing for them.
This provides an important hint: even though today every single town and city in Spain provides good internet options, it will be the biggest and most dynamic city in the country that will offer this complete package.
Coffee shops to work
Digital nomads love to work from coffee shops.
They will spend the first couple of hours of the day at the first stop while sipping their first coffee with their computer in front of them, will change to a new spot to grab something to eat while continue working, and finishing the day at a last one with a cup of tea.
If the city they choose does not have a wide variety of brunch bars to choose… that will never be a good fit.
Here what's important is both the density of coffee shops spread throughout the surroundings as long as the pleasant vibe they offer. That pleasant vibe that enables you to spend long hours working (and makes you love it too).
Cities like Madrid, Barcelona, Valencia, or San Sebastián are the ideal territories for that.
For example, here you can find a list of the top 10 bars to work in Barcelona. They are amazing!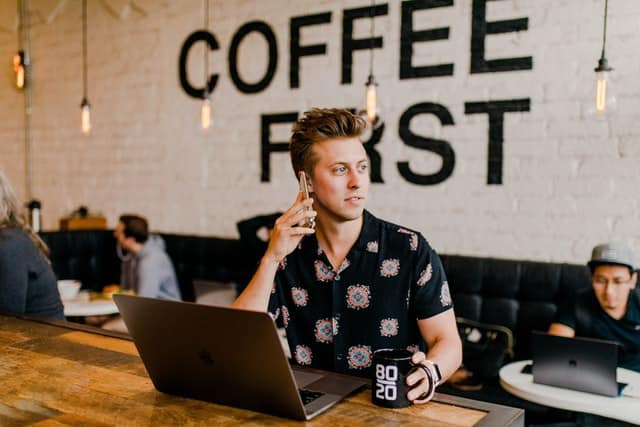 Coworking spaces
Even though many digital nomads choose cafes as their working office, many others go for the coworking option.
In fact, coworkings have become a real revolution. These buildings house tech-creative workers, marketers, and other interesting profiles in one place, offering them internet connection and a calm place to work at a really cheap price. 
This also allows them to connect and meet with new people (see new point), while finding a more "corporate" vibe while they do their daily tasks.
Because yes, working at a coffee shop can sound awesome. But can become quite chaotic if you do it for 8 hours every single day.
That is why, together with their new home, many expats who work from Spain will research first the different coworking spaces in the city they are moving to.
Barcelona, Madrid, and San Sebastián are the cities in the country with more coworking square meters built.
Opportunities to meet other digital nomads
Let's face it. Moving abroad is not easy. Many times you are completely alone in a country you don't know, without your old social circle and comfort.
If we cross that with the fact that we are social animals and that we need constant contact with other individuals (especially with likeminded people), we reach an easy conclusion.
Digital nomads need a city that offers the possibility to easily meet other digital nomads.
That is why many of them will decide where to move according to the number of foreigners in that particular region, especially if they are from their same nationality.
Networking events
Even though they move abroad to enjoy a new country, one of the main pillars of their life will still work.
Hence, and connected with the prior point, networking events are key.
They allow expats to meet new people at the same time they can strengthen their business opportunities and performance by finding new partners or people with whom to collaborate.
There is a positive correlation between regions with a high density of startups and networking events celebrated. That is why it is easy to understand that big cities will always win this battle.
Leisure opportunities
Why does someone choose to adopt a nomadic lifestyle?
Basically for two reasons.
The first one is to enjoy the freedom of working from anywhere they want (and not inside an office building with a corporate vibe). But the other one is to enjoy as much as possible their life, to enjoy those hours left once you finish your working schedule.
That is why finding a city with leisure opportunities is another crucial factor. It helps strike that work-life balance that is so important for a digital nomad.
In that sense, what would they seek?
For example, cities with a wide offer of salsa classes, with several teams you can enroll to in order to play football or basketball, groups of people with whom you can practice yoga or meditation, etc.
The bigger the leisure offering in the city, the more events and options to spend time meeting with new people while doing a pleasant activity, the better for a digital nomad.
Why is Spain the perfect hotspot to enjoy a nomadic lifestyle?
The answer is simple: the main cities in the country do meet all the requirements we've covered in the prior section.
Spain is one of the preferred destinations for expats worldwide, so meeting people in the same situation is really simple. Cities like Madrid or Barcelona are startup hubs, hence business opportunities abound.
Leisure opportunities are commonplace in the whole country. And were are referring not only to activities that can be carried out inside the city: the possibility to embark on different kinds of weekend trips is another chosen experience (like hiking, sailing, etc.)
But there is much more to that.
The low cost of living compared to other capitals in Europe makes Spain a really attractive option. Especially if we take into account the pleasant weather the country experiences the whole year-round, something that you can't find in the vast majority of EU regions.
Finally, and perhaps one of the most important aspects, the Spanish people. If you move abroad, you want to feel comfortable when talking to locals. And there's no better place in the world for that than Spain. Spaniards are totally open-minded, funny, and really close to each other. So feeling at home while being surrounded by them is an easy task.
Top hotspots in Spain for digital nomads
So, with everything we have said so far, which are the cities that make it to the top?
Let's review the main hotspots that thousands of expats have been choosing during the past years successfully.
Barcelona
No surprise the second-largest city in Spain was going to be at the top.
Barcelona is the city with a higher number of expats, with a third of its population being foreigners. And it is for sure one of the best places to live in Spain as a foreigner.
Why do they choose it as their new residence?
It's simple. First of all, it offers a varied landscape, composed of both mountain and sea, that makes it impossible for your to get bored.
The city is completely dynamic, with thousands of group activities taking place every single day.
As we mentioned before, it is the second city with more coworking spaces within the Spanish territory, and finding a brunch coffee shop to work is as simple as walking down the street for a maximum of 5 minutes.
Also, on the business side, opportunities abound. Barcelona is one of the top 10 start-up hubs in the whole Europe. Talent from abroad, good infrastructure conditions, and a market ready to be penetrated are some of the factors that enable expats to thrive with their business here.
In fact, Barcelona is one of the main European hubs for entrepreneurship.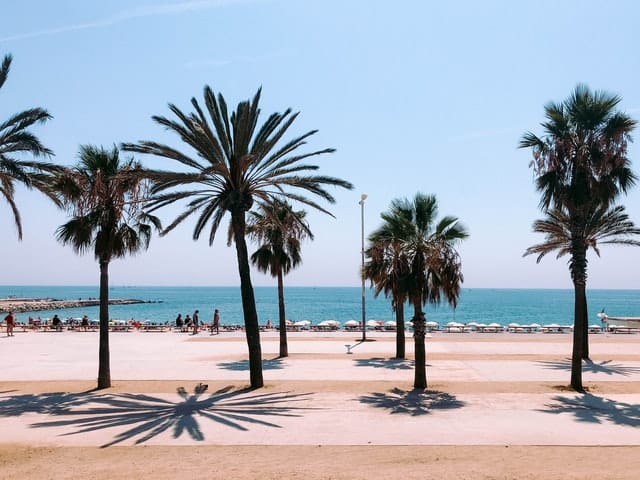 Valencia
But what happens if you really enjoy the lifestyle that Barcelona has to offer, but you find it somewhat expensive (especially when it comes to rental prices)?
Then your best option as a digital nomad is Valencia.
Similar weather and a similar vibe, but cheaper.
That is why many expats are starting tho choose more and more this coastal city as their go-to place.
It is an amazing territory, surrounded by beautiful beaches, that has a lot to offer. Modern architecture with tons of things to do, the city and its surroundings are ideal for both families and young people.
And it will offer you the possibility to enjoy the best paella in the whole country!
Madrid
Another preferred option for expats is Madrid.
A walkable city with huge parks like El Retiro, tons of cafes with wi-fi and leisure opportunities, and perhaps one of the best food and drink offerings in the country.
Furthermore, if you are kin on culture and learning, the capital of Spain will offer everything that you need. The main museums in the country can be found there, but even the city streets and architecture embody that sense of cultural enjoyment.
Nevertheless, the is one main downside. The cost of living is the highest if compared to the other alternatives, and the weather a bit extreme (winters tend to be cold, and summers really hot).
Canary Islands
For many considered paradise.
With 320 days of sunshine, you get to experience summer during the whole year.
That is why many nationals (as long as foreigners worldwide) choose it as their holidays destination in winter. It is like being in the Caribbean but enjoying the Spanish lifestyle. The perfect combination.
On the other hand, the cost of living is really cheap. Rentals aren't expensive, and the remaining monthly costs are on the same line.
Year after year cities like Tenerife or Las Palmas have become a paradise for digital nomads. That has enabled the islands to attract more and more expats as the years go by, so meeting new friends in your same situation is an easy task.
And not only will you find hot weather and beach days! You can also decide to go hiking to the different mountains and hiking trails. And perhaps, if you are adventurous enough, you will dare to hike the highest mountain in Spain: Mount Teide.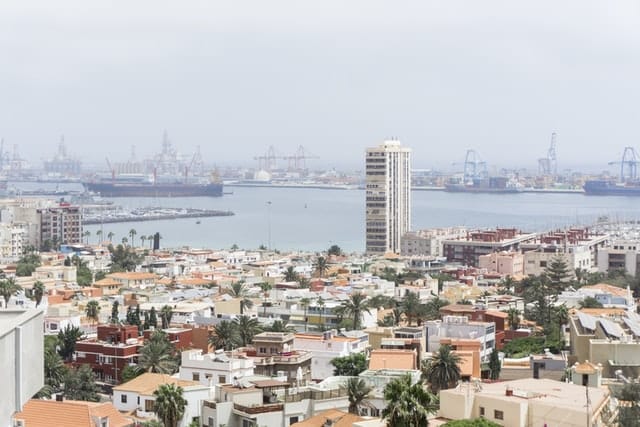 Andalucia
Finally, one of the most well-known and beautiful regions of the country: Andalucia.
We could have chosen one single city. But each of the main capitals has something unique to offer, and choosing just one would be a sin.
Sevilla, Málaga, Granada… Really similar at some level, as they all share that characteristic southern vibe that makes them enchanting, but at the same time so different and peculiar.
The living costs are totally cheap, and the internet and public transportation infrastructures perfectly set.
After several months living in any of its cities… you will realize you don't need anything else!
Assistance finding your ideal city
So far we have explored the best destinations for digital nomads in the Spanish territory.
And perhaps you are feeling somewhat confused. They all seem amazing places, but I can't get my mind to decide. What should I do?
Well, we are here to help you out. We have dealt with thousands of foreigners from all around the world moving to Spain. And we can easily suggest which would be the best place for you to establish yourself.
Besides, we can also assist in other crucial areas like knowing how to get your residence permit in the country  or how to buy a property.
Our team is at your complete disposal, 24/7: