Okay, so we have a clear goal: move to Spain. The next big thing to consider is: do we have the budget? 
While it is true that it is not the funnest thing to think about, the financial aspect when relocating (computing, estimating, budgeting) must be done. And that is why we've made it easier for you. 
There's a lot of talk that Spain is, generally speaking, pretty affordable to live in compared to other places in Europe. But is that really true? Is Spain that cheap?
In this article we'll tackle the prices and expenses of living in Spain as a foreigner, so that you know if you can truly make this big change. Next, you will find tables with the cost of the main items you will face on a day-to-day basis, comparisons with other countries, and other data sources to fully grasp the REAL costs of living in the Spanish territory.
Is it expensive to live in Spain?

 
We're starting off on a good note: no, it is not expensive to live in Spain when you compare it to other popular cities in Europe. Spanish culture prioritizes work-life balance and gastronomy, so it is important that leisure and food are affordable.
Plus, if you look at OECD data, the average household net-adjusted disposable income per capita is 3,000 USD lower than to the average OECD level (around €28,000). Because Spain has a lower average salary, and an unemployment rate higher than the rest of Europe, the current costs of living are lower, as well. 
Of course, different regions around the country will differ in price ranges. Big cities or capitals will definitely be more expensive than small beach towns, but we will dive into that later. 
Is it cheaper to live in Spain or the UK?
It is cheaper to live in Spain than in the UK.
According to NUMBEO, in the UK, a single person's estimated monthly costs without rent is around €820, while in Spain, it is around €670. Rent and groceries are also cheaper in Spain.
Moreover, while public transportation packages allow for easy movement, if you prefer to drive a car, fuel, especially diesel, is much more affordable.
And the cost of living in Spain vs the USA?

 
Yes, again, it is cheaper to live in Spain than in the US. In the United States, a single person's estimated monthly costs without rent is €972, which is €300 more than in Spain. 
Additionally, in 2022, the median listed for rent in 50 of the largest US metropolitan areas was around €1,700. In Spain, this amount is more than enough to last you a whole month (maybe even two), all expenses included. 
This is why, many US citizens come to Spain to work remotely. They can maintain a US salary while benefiting from the cheaper costs of living in Spain. If you would like to explore this option, you can read more on how to move to Spain with a digital nomad visa here. 
What are the most expensive areas in Spain?

 
As mentioned earlier, prices differ depending on the Spanish region. If you are living in a capital city, it is naturally heavier on the wallet than in a small town. 
Generally speaking, the South of Spain (Malaga, Sevilla, Granada, etc.) is more economical to live in for foreigners and locals. Although some touristic spots can have higher rent, groceries and restaurants in this region are cheaper.
On the other hand, rent in the North of Spain, especially Basque Country (Bilbao, San Sebastián, etc.) can be more expensive or similar to that of Madrid or Barcelona. 
In this next section, we will look at three of Spain's biggest cities: Barcelona, Madrid, and Valencia.
Cost of living in Barcelona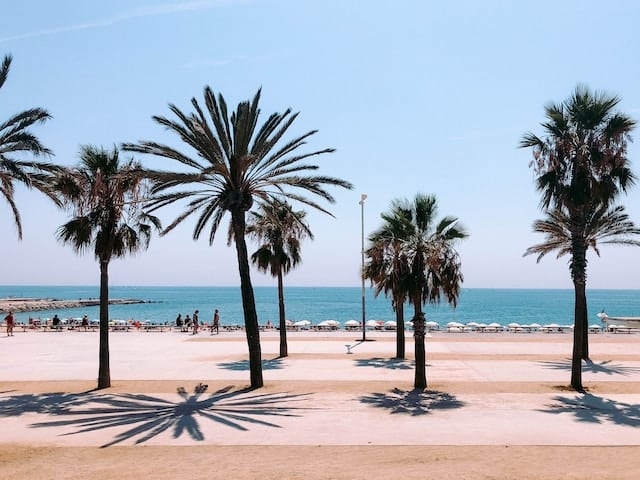 Barcelona is the most expensive city to live in. It is definitely a main attraction globally with its easy access to the sea and mountains, thriving start-up ecosystem, and welcoming communities of like-minded people.   
However, as it becomes more populated with students, entrepreneurs, and freelancers, costs continue to rise.
Barcelona's cost of living plus rent index and restaurant price index are the highest in the country.
Nowadays, a single person's rent can cost up to €700-1,000, which is extremely high compared to Spain's minimum wage of €1,080. 
It might help to live in more suburban areas of Barcelona, as public transportation is well-communicated and can get you to the city in around 30 minutes. 
Cost of living in Madrid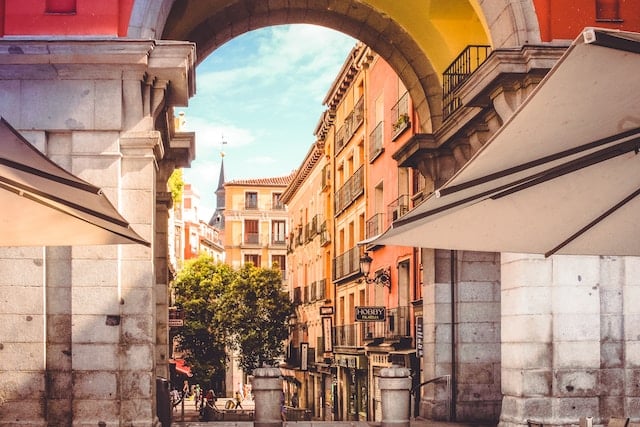 As the capital of Spain, Madrid has the second-highest rent index in the country. However, it should be noted that Madrid's restaurant and cost of living prices still fall below those of Bilbao and Palma de Mallorca.
The good thing about Madrid is that it boasts many green spaces and parks. That being said, it is easy to create plans without spending much. For example, make some sandwiches at home then go for a picnic in Retiro Park, or watch the sunset at Templo de Debod. 
Up to the age of 25, you can also apply for the city's "abono" card, which allows for unlimited travel all around the Community of Madrid for only €20 per month. 
Cost of living in Valencia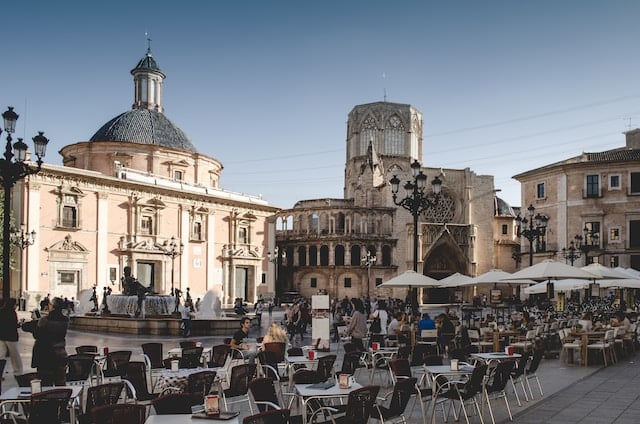 Valencia is a great option to live in because it has both the beach and a bit of the city life. As it continues to develop, the expat community grows, as well. 
The lifestyle is slower and more relaxed than in Barcelona and Madrid, and the cost of living is cheaper. Rent in Valencia can go for less than half of Barcelona's prices. 
The city is smaller so it's easy to get where you want on foot or by bike, which saves a lot. Most distances within the city are just a 10-20 minute walk from each other. For longer distances, like going to the beach, there's the metro, bus, and tram. 
The fact that Valencia is quite similar to Barcelona (weather, infrastructure, vibe) but much cheaper helps explain why it has become of of the top cities to live in Spain as a foreigner.
How much money do you need to retire in Spain?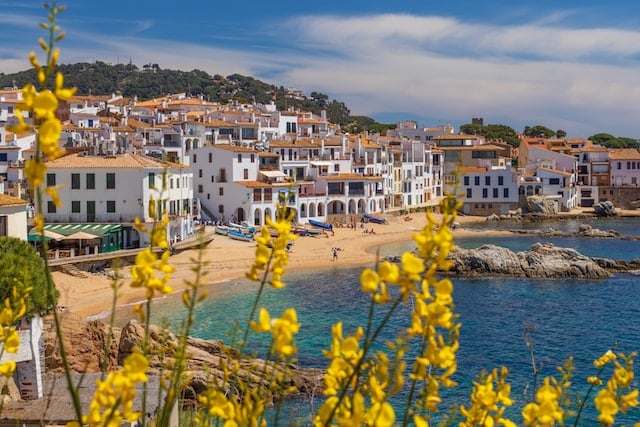 Spain has something for everyone: vibrant beaches, majestic mountain ranges, quaint little towns, and bustling cities.
Add on the rich culture and good food, and it makes it one of the best countries to retire in. 
You need around €28,800 to retire in Spain, which is 400% of IPREM. Then for every additional family member, €7,200 is required to apply for a visa. 
So, if you are a non-EU citizen who would like to retire in Spain, or even just spend a year living abroad without working, the non-lucrative visa would be a good option. In this article you can read all about it. 
Living Expenses in Spain 
Now, we will get into the details and see some price examples for transportation, food, utilities, rent, and leisure expenses. 
At the end of this article, we will also include a table of example costs to make it clearer to understand and visualize. 
Transportation costs
Spain has pretty good public transportation within cities. Of course, the big cities are busier and more connected, but even smaller towns will at least have buses, for sure. One-way tickets usually cost around €1.50. 
In the bigger cities, it is common to have a transportation card that makes it easier for you to travel around. 
For example, as mentioned earlier, Madrid has the abono transportation card that allows unlimited access to all zones of Madrid until the age of 25 for €20 a month. Barcelona, on the other hand, has the t-jove. Until the age of 30, you can pay €40 to have unlimited access to all zones for 3 months. 
If you want to travel around the country you also have a lot of options. For example, to travel between Madrid and Barcelona, the AVE (high-speed rail) would cost around €80-100. But there are cheaper options, such as taking the bus, which would cost €30-50. 
How much does a meal cost in Spain?
The great thing about Spanish restaurants is that a lot of them offer the menu del día for lunch. So for as low as €10, you can find a set meal with a starter, main plate, dessert, and a drink. 
For inexpensive restaurants, a meal would usually cost around €12-15. A beer normally goes for €2.50 for half a liter, and coffee for €2-4 depending on the type.  
Doing groceries in Spain is also very economical. You can save a lot of money by cooking at home rather than eating out. A loaf of bread costs on average €1.50, a dozen of eggs around €2.50, and a 1.5 liter of water or milk costs less than a euro. 
What is the monthly rent in Spain?

 
Monthly rent in Spain usually ranges from around €400-600 depending on where you are. In smaller rural towns it can cost less, but in capital cities, it can cost way more. 
When paying rent in Spain, you will usually find that your contract says either: "gastos incluidos" (with utilities) or "sin gastos" (without utilities). If your utilities are included in the contract, you will pay a set price for rent and utilities every month. If not, they you will pay the utility costs depending on the bill. 
Monthly utilities (water, electricity, heating, cooling) for an 85 square meter apartment on average cost around €100-130.
Healthcare in Spain for Expats
Spain's healthcare is one of the best in the world, emphasizing universality and equity. The public healthcare system (Sistema Nacional de Salud) covers 99% of the population. 
Most Spanish residence permits and visas require full-coverage private health insurance in the country. This costs around €75-80 per month (per person). 
However, bigger insurance companies usually have cheaper plans, especially for students, which can go for just €50 a month. 
Miscellaneous Fees in Spain

 
Aside from just thinking about the necessities, of course, we would also like to enjoy our free time in a new country. Plus, with Spain's emphasis on siesta culture or learning when to unwind, you will definitely have opportunities to cultivate your hobbies and recharge. 
Maybe you would like to get a gym membership, which costs around €30-40 a month. Or maybe you would like to rent a pádel court for an hour, €10-15 depending on where. 
You could also watch a movie at the cinema for €8. Or go to an amusement park for €30-50. 
For self-care, a haircut costs €20-30, a manicure costs around €10-25, and a full-body massage starts at around €60. 
Table of Price Examples: How much do you need to live comfortably in Spain?
Next, we have included some key reference points so that you can fully grasp the actual costs of living in the country: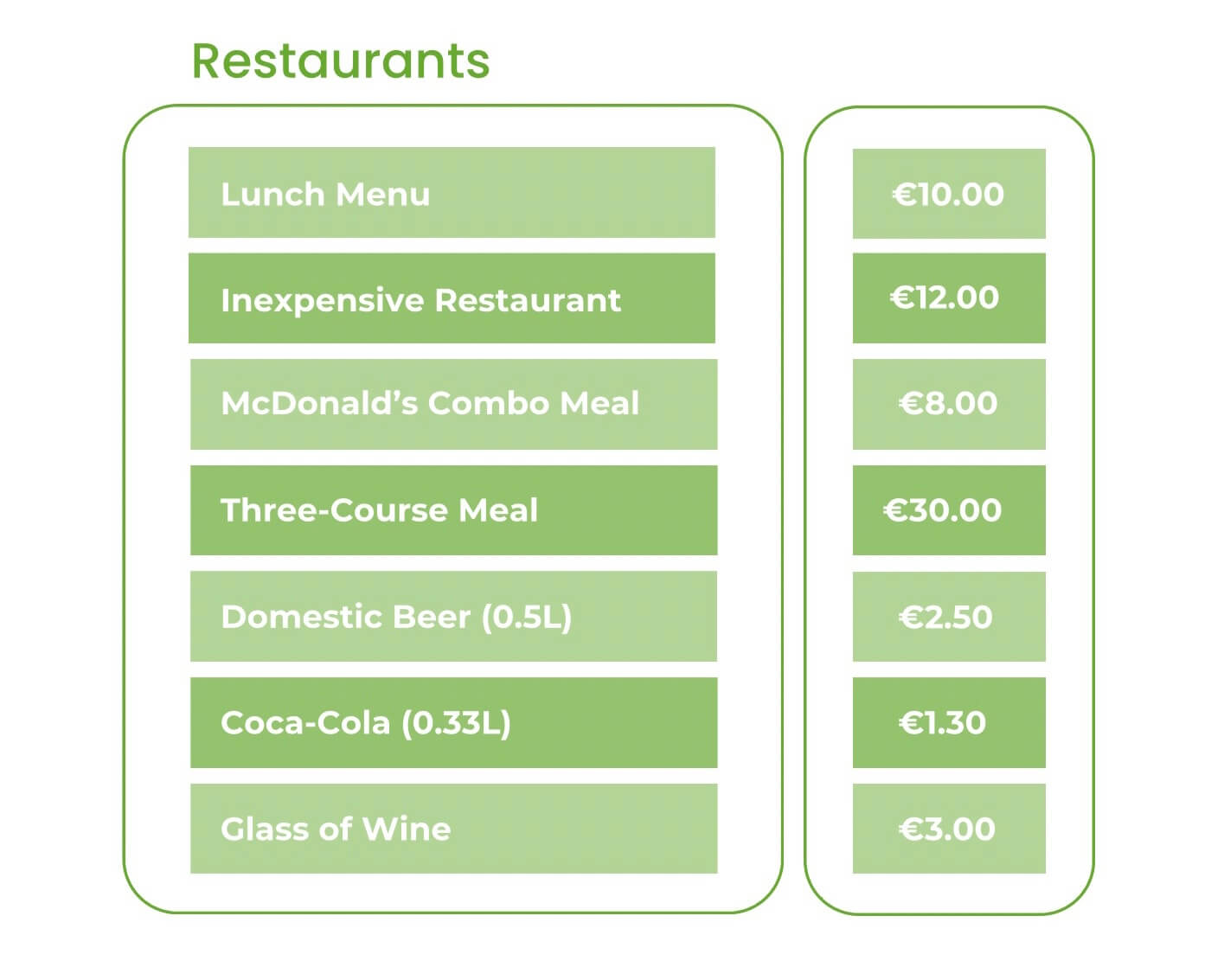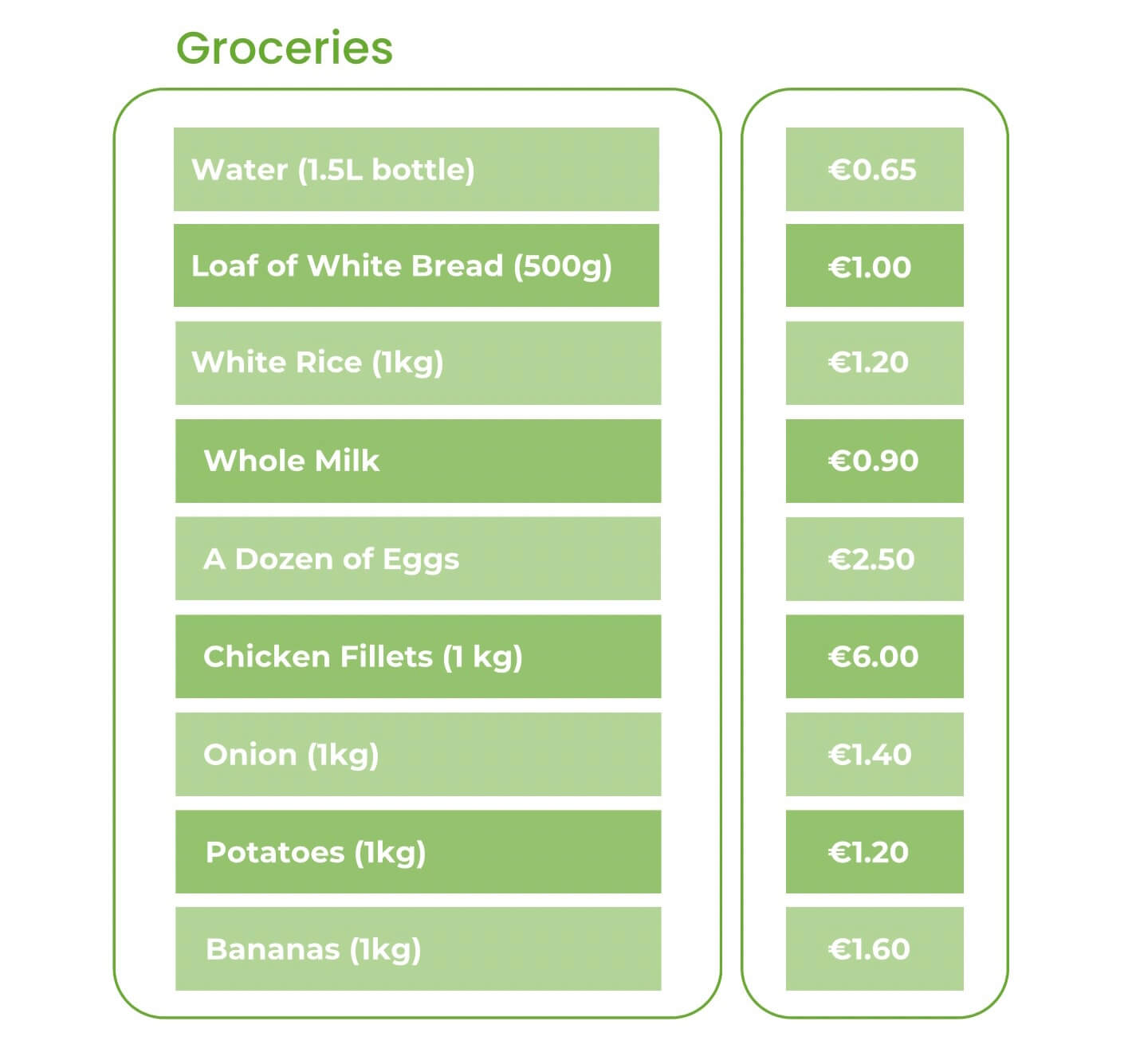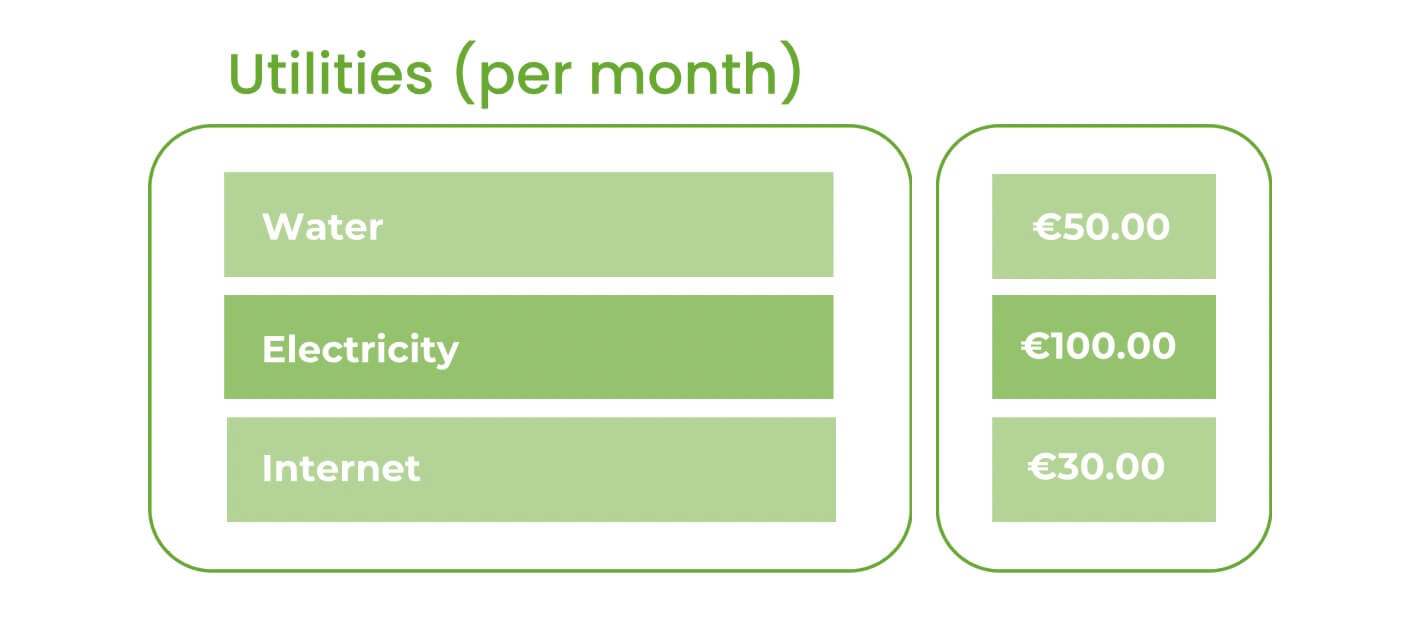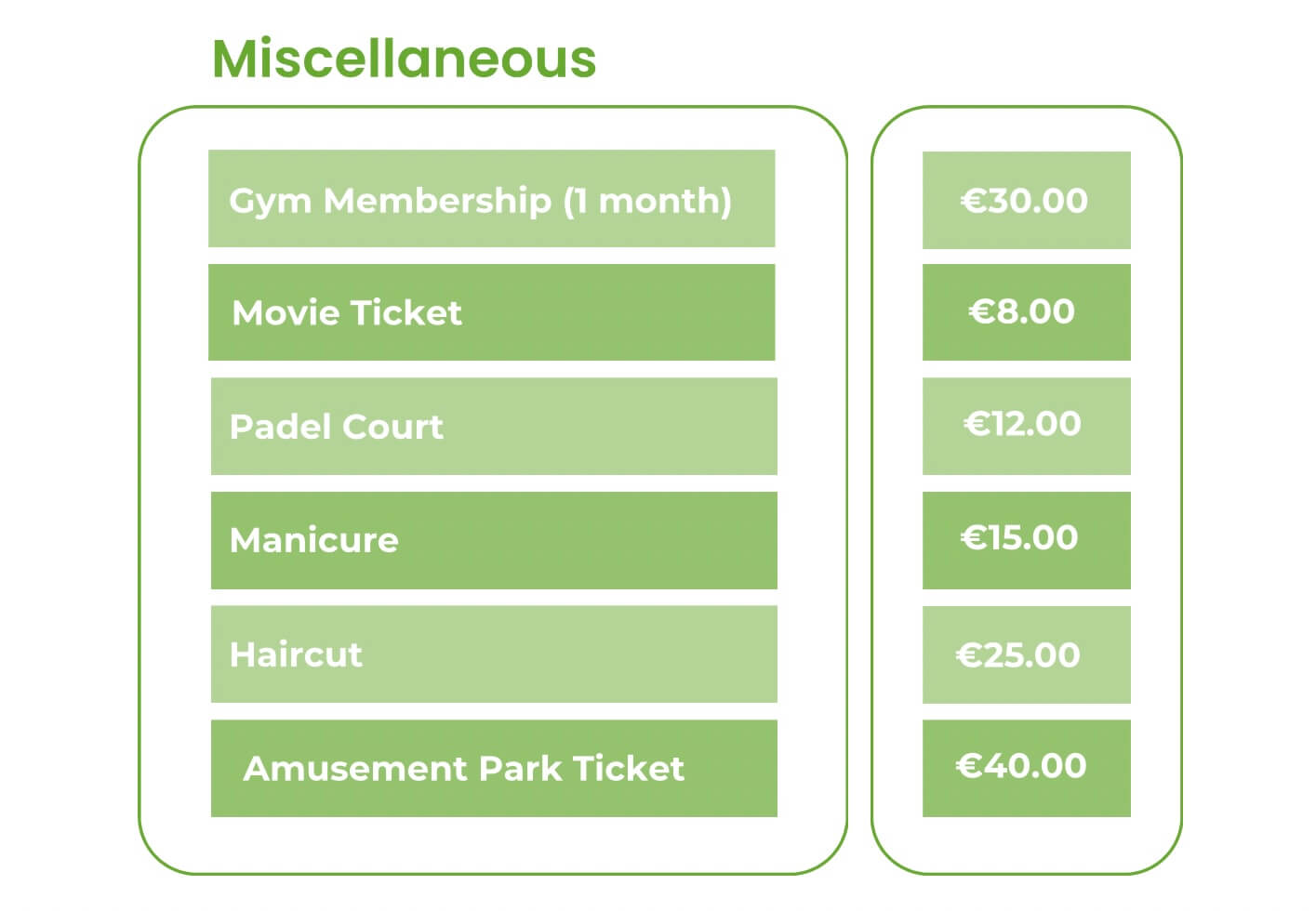 So, overall, how affordable is Spain?

 
Like any other location, Spain has its extremes, such as very expensive places, or very affordable places. But when we look at the big picture (as we have done) and compare it to other countries in Europe, the cost of living in Spain is not expensive. 
Additionally, the country has many alternative options that allow you to save money. Earlier we mentioned making food at home and then going for a picnic, instead of eating at an expensive restaurant. 
Other suggestions include renting a room in a shared flat instead of getting a place all to yourself (If you are studying, you can even check out student residential buildings). 
Or, instead of taking a taxi or public transportation, travel by foot or bike as most Spanish cities are walkable or bike-friendly. 
Finally, we hope your move to Spain goes smoothly! Remember, visas and permits also have process fees, depending on which one you apply for. 
If you ever have any more doubts or questions, our lawyers are always here to help.  
Book a consultation with one of our lawyers and solve all your doubts: