We could start by highlighting everything that Spain has to offer. But let's avoid the typical "sun, perfect weather, great food,…" statement. We all know that. So now that you are already convinced about how amazing Spain is, let's dive deep into what's important. The exact steps and considerations you should follow in order to retire in the country. Because, in fact, it can be really simple; provided that you know the information in this article. Therefore, let's start learning about how to retire in Spain. 
What are we going to tackle exactly in this blog post?
Which are the best cities and places to retire in Spain?
First things first. 
Spain is a big country with a diverse landscape. Even though the weather might be somewhat similar across its regions, all the cities that integrate the country are completely different. 
That is why, beforehand, you should start by defining where will you start your new life. 
As someone who has not explored every single corner of the country, it can be a bit difficult. That is why we would like to give you 3 suggestions about the best places to live in Spain as an expat.
Of course, that decision will hugely depend on your personal interests and where you feel most comfortable. Do you prefer a more active place to stay or you are all about the mountain and relaxation? No matter what, let's analyze our top 3 cities for retirees in Spain.
The Surroundings of Barcelona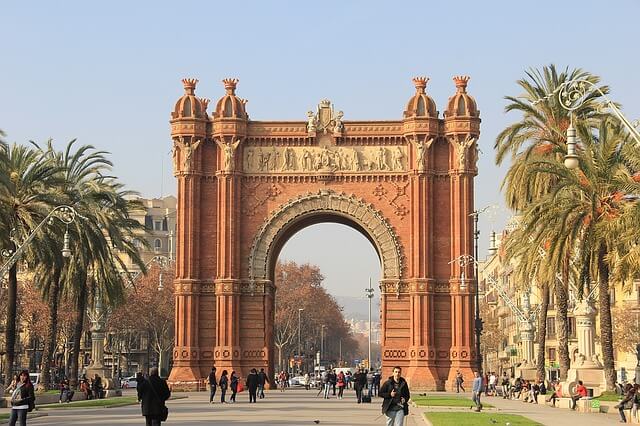 Americans retiring to Spain love it.
Notice how we are not referring to the city of Barcelona itself. Why? Yes, undeniably this Mediterranian city is amazing, and a worldwide touristic destination. That is why many individuals who want to retire to Spain from the US choose it as their new place to stay. But that may be the problem. 
If you are planning to retire, odds are that you want something more calmed and relaxed. You don't want to experience the daily rush of people moving from one place to the other and the noisy vibes of its streets. That is why Barcelona may not be your ideal choice. 
But there are tons of awesome alternatives at stone's trough this city: its surroundings. 
Towns like Sitges or Calafell are the perfect spot for those wanting to have access to a decent-sized house at a more than affordable price. 
You will enjoy there a calmed vibe with the beach in front of you. But without giving up to a charming vibe that will make you want to have dinner at a restaurant every single day. And, whenever you want to visit Barcelona, you will always have it next to you in a maximum of 30 minutes. 

Malaga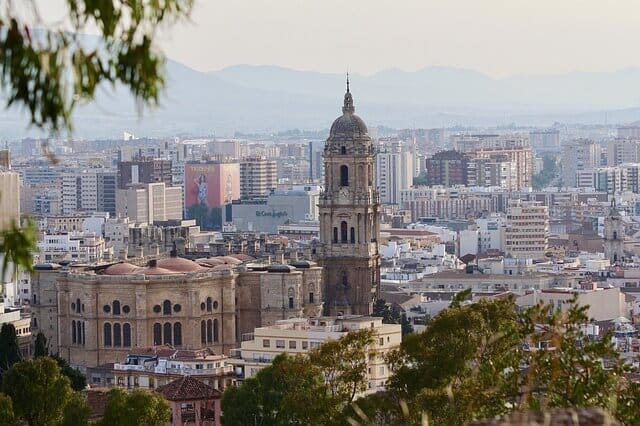 Safe and friendly. For many the capital of the "Costa del Sol", a city that has become a complete cultural and commercial hub. 
Malaga is one of the preferred destinations of citizens abroad. The perfect weather conditions throughout the whole year will make it perfect for you in order to enjoy its charm. 
Like anywhere in the South of Spain, people in Malaga like to live in the street. That is why you will find it really easy to enjoy a great glass of wine with some tapas at any terrace. 
Furthermore, it's amazing cuisine, architecture and infrastructure will delight you!
Bilbao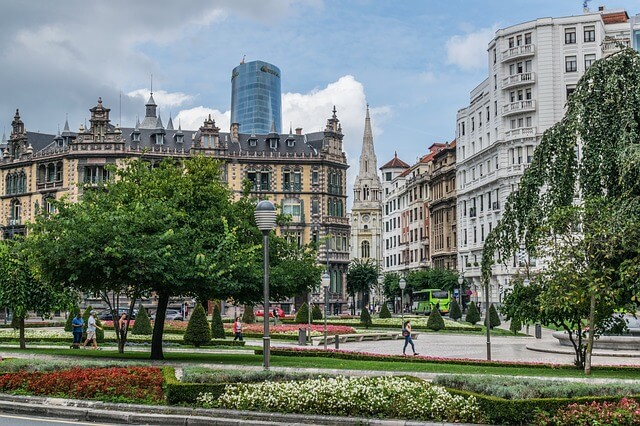 Finally, something a bit more alternative, which escapes the Mediterranian landscape. An Atlantic city full of surprises.
Even though there are fewer tourists and expats, Bilbao has become another great destination for them during the past years. If you'd like to explore and enjoy a different culture, gastronomy, and people, the capital of the Basque country is your go-to place. 
A much more affordable place with cutting edge architectural designs (see, for example, the Guggenheim Museum). But maybe something that attracts many individuals to Bilbao is its gastronomy. Just try going from bar to bar ordering some "pinchos", and you won't be able to stop!
Retirement visa: the residence permit that will allow you to stay in the country
This may be the most important part of the process.
Because no matter the city you choose or the property you buy, if you don't have a residence permit in the country you won't be able to legally stay in the country for more than 3 months. 
Therefore, which is the visa that will enable you to stay in Spain for the long run?
The retirement visa in Spain, which is called non-lucrative residency. This is the residence permit that enables you to stay in the country without conducting any economic activity; something you don't do when retired. 
Its easy-to-meet requirements make it the ideal visa for you. In that sense, you will just be required to:
Possess over 40.000€ in a bank account. The money can be in any currency convertible to the euro, and there is no need to have it in a Spanish bank account. Nevertheless, depending on the country you come from (China, for example), the Spanish Immigration Office will require you to have the exact amount in a bank account inside the Spanish territory. As you are also planning to live here for the long-run, our advice is to open it as soon as possible and transfer the money here. 
Having a private health insurance contract signed with a Spanish company. Bear in mind that this contract must offer full coverage within the Spanish territory. 
The non-lucrative visa will allow you to legally live in Spain for one year. Once that period ends, you will be able to renew the permit for 2 and 2 more years (provided that you still meet the initial requirements). 
Once the third renewal ends, you will have lived in the country for 5 years. That will enable you to get permanent residency. This is another type of permit that allows you to live for 5 years in Spain And, finally, once those 5 years finish, you can get Spanish citizenship.  
*Important note. The retirement visa requires you to stay in Spain for at least 183 days per year. This, as we will see, will have an impact on the taxes you pay. 
How much money do you need to retire to Spain?
We have included this question after the prior one because there is an important aspect many other sites don't talk about.
How much money, exactly, do you need in order to retire to Spain?
Because yes, you can live in Spain with just 20.000€ per year and enjoy a more than decent life. Nevertheless, there is something we won't be taking into consideration here. 
The non-lucrative visa, the residence permit that you'll possess, has a monetary requirement attached. And not only do you have to show the exact amount of money on the application time. If you want to renew the permit, this requirement still holds. 
That is why our numbers differ a bit. As a foreigner wishing to retire in Spain, you will need, at least, 40.000€ per year in order to live in the country. That is the minimum you must be aiming at, only due to legal reasons (if you are coming with your family this number will increase).
But what is the cost of living like in Spain?
If you just take into considerations your day-to-day costs, you can more than comfortably live for 25.000€. And with 30.000€ and over you will enjoy life like a king or queen!
For sure life is a bit more expensive in the capitals (Barcelona, Madrid,…), but you can easily enjoy a 10€ menu at any restaurant. A monthly transport pass can cost from 40 to 50€, and renting an apartment 500€ per person/month (on a decent location). 
Should you buy or should you rent?
There are some factors to consider in order to make this decision. 
First of all, you must bear in mind that the real estate market in cities like Barcelona and Madrid have been experiencing a drastic growth lately. this means that buying a property there is quite expensive nowadays. Nevertheless, you have the option to buy a property on the surroundings, being much more affordable. 
But maybe our wisest piece of advice would be to start renting before buying. 
It is highly likely that you still haven't explored many of the cities and towns in Spain. Granada, Sevilla, Santander, Valencia,… there is much more to Barcelona and Madrid!
Therefore, our advice would be to start renting while you move and discover all the cities that you can in Spain. Then, once you have clearly defined which is the region that best adapts to your situation, you can start planning to buy. 
Taxes in Spain as a retiree
Let's now talk about something that is a headache for many: taxes. 
As we previously mentioned, the retirement residence permit requires you to stay in the country for a minimum of 183 days during a year. This, immediately, turns you into a tax resident. 
And what does that mean? Simply that you need to pay taxes all the taxes and at the percentages tax residents do. 
We developed a guide with all the taxes in Spain for expats, which you can access here. 
But just to give you a small introduction. Some of the taxes you'll need to pay:
Income tax or IRPF. You'll need to pay taxes on the incomes you obtain worldwide (not only those obtained in Spain). The exact percentage will depend on the exact amount you earn, going from 19% to 45%.
Capital gains tax. A 19 to 23% applied to the gain you obtain when selling assets like a property. 
Wealth tax. If you own a property or any asset valued at more than 700.000€, you need to pay from 0,2 to 2,5% of taxes over it.
The Spanish tax system can be really complicated, especially if you come from countries such as the UK in which taxes work completely differently. That is why our piece of advice is hiring an accountant that can manage your taxes. The monthly cost that it carries within is worth it: it will save you a lot of time and you'll avoid any possible legal complication. 
At Balcells Group we offer monthly accounting and tax optimization services from just 75€. Contact us at [email protected] for more information!
Retire to Spain after Brexit
Is it still possible to retire to Spain after Brexit?
Yes. Brits will still be able to retire to Spain after Brexit. Nevertheless, depending on how long they wait to formalize their legal situation, the path will be one or another. 
If as a British citizen you get your permit before the end of 2020, you will be able to move to the country easily under the withdrawal agreement residency permit.
Nevertheless, if you wait until 2021, then you will need to apply for the retirement visa following the same steps as any other non-EU citizen. This retirement visa, as we have already seen, is called non-lucrative visa, which lasts for one year but can be renewed easily if you still meet the requirements.
Many aspects that will define your day do day life as a British citizen in Spain will depend on the agreements between both countries. That implies that we will need to be up to date with the latest immigration news. 
But if you want to know how to retire in the Spanish territory after Brexit now, we recommend you to read our article in which we explain how to get your resident status following the simplest possible steps. 
Read here how to get your residency in Spain as a UK citizen.
Nevertheless, you may also want to talk to one of our lawyers and let us help you define what to do. 
I WANT TO TALK TO AN IMMIGRATION LAWYER