Expired or lost NIE? Then you need to renew it. Nevertheless, you may have many doubts about this process: how does it work exactly, where to do it, etc. But you are about to solve them all. In this complete guide, you will learn everything you need to know to renew your NIE number in Spain step by step. We will go over the main documents and requirements that you must submit, the legal procedure to follow, and which is the fastest and most agile way to do it.
NIE and TIE. What is the difference?
Let's start by making a totally important distinction. Any foreigner who begins to live legally in Spain and obtains residency receives a TIE.
The TIE is the foreigner's identity card, a physical document that contains the type of residence authorization of the expat. This card, in turn, is printed with a photograph and an individual number that identifies the foreigner: the NIE.
Therefore, if there is anything that expires or is lost, it is the TIE, not the NIE. The NIE number will always be the same throughout your stay as a foreigner in the country. The only thing you will be able to do then is to "reactivate" it in case of expiration. The same happens if we lose our TIE or it gets stolen.
Besides, as we saw in our complete guide to getting your identification number as a foreigner, there are two different types of it:
Resident NIE, designed for EU citizens in Spain.
Non-resident NIE, for non-EU citizens who live more than 3 months a year in the country. Obtaining it is a little more complicated.
Is it automatically renewed?
After reading the previous section we can easily answer this question now.
On the one hand, we have the TIE or card as a foreigner, which is not renewed automatically and you must be the one who initiates the process.
In order to do so, you must demonstrate that the requirements that allowed you to obtain your residence permit when entering Spain are still true today. In other words, the requirements for renewal will depend largely on the type of residence permit you have.
But on the other hand we find the NIE number, which is not automatically renewed since it never expires. This number will always accompany you once assigned, and it cannot be lost or renewed. It is a mere identifier.
Documents and requirements for the renewal
Let's see what exactly do we need to submit in order to renew the NIE number.
Keeping these requirements in mind from the first moment will be fundamental to avoid problems. It will allow you to prepare everything in advance and avoid time pressure kicking in (something that can lead to legal problems).
So, what do you need to prepare for the renewal?
EX-15 form
The first document you will need to submit is the EX-15 application form, duly completed and with all the relevant fields marked.
Don't forget the address!
Please note that it is recommended that you first fill this form on your computer and print it out later (rather than doing it by hand).
Passport
You must also provide your original passport, and a complete copy of it. It must be valid (if it has expired, a copy of the renewal request must be submitted).
This is the mechanism that the authorities use to verify your entries and exits in the country.
In the case of being a citizen of the European Union, your identity card will be sufficient and the passport will not be required.
Passport photo
It is also necessary to present a passport-size photograph, which will appear on the new card along with your ID number.
To obtain this photograph you can go to any of the specialized stores or to the typical machines that are usually found in the subway.
It won't take more than 5 minutes for either of these two options.
Fee payment
As in any procedure with the immigration office, you must pay the relevant fee, in this case equivalent to 7.17 €.
Once paid, you will need to submit the document that proves that the payment has been made correctly.
Written proof
Another requirement that you will need to provide is a document that justifies the reasons why you want to formalize this procedure. That is, if you want to renew your NIE it means that you want to stay longer in Spain. For what reasons? How will you achieve this?
It is important to consider that it must be an official document: that is, drawn up by a notary. Or, on the other hand, it can also be issued by your employer or bank manager.
Social security
If you are working in Spain, you must also provide your social security affiliation number.
Accompaniment
In case that the one renewing is under 18 years old, he or she must be accompanied by his or her parents or legal guardians; and they must provide her identity card and a copy of it.
Where to renew it?
The first thing you should know is that the institution in charge of granting the NIE is the General State Administration. However, it is effectively issued by the DGP ("Dirección General de la Policía").
Let's see the three possible paths to carry formalize your renewal, both in person and by telematic means.
Renew NIE online
First of all, and as an option we recommend, you can carry out the procedure completely online. The telematic path is the fastest and most agile option within the available alternatives.
To do so, you simply need to access the Public Administration online platform through the Mercurio system.
In this case, it will be essential that you have a digital certificate or electronic ID, because once you have uploaded all the documents to the platform, you must sign them online.
In this sense, and as we have seen in the requirements section, you must add the proof of having paid the relevant fees. This payment can be made through the payment gateway of the Tax Agency (online), or through your own bank.
Renew in person
You can also make the renewal by going in person to the relevant immigration office corresponding to your location.
To do so, you must get an appointment through this link.
Select your region and the procedure to be carried out, and then choose a day and time that works for you. We recommend that you get your appointment well in advance, as they tend to run out very quickly and the process can become a total odyssey.
On the day of the appointment, you must submit all the documentation we have seen so far.
The clerk in charge will do a complete review to finally decide whether the application is approved or not.
Renew by mail
Finally, the other alternative (also in person) is to submit all documentation by mail.
Again, you will have to prepare all the documentation and attend with it to the post office closest to your place of residence. You can find yours here.
They will stamp all the documents, give you a copy, and send everything directly to the foreigner's office.
Don't forget to send the documents with a receipt and by certified mail; this is an important procedure and enjoying the highest security is crucial.
How to get your renewal appointment
As we have seen in the face-to-face renewal, you must get an appointment in order to go to the immigration office and submit all the documentation.
Once you enter the link, follow the next steps:
Select your province, for example, "Barcelona" or "Madrid". Click on "aceptar".

In the drop-down menu "trámites cuerpo nacional policía", select "Policía – Certificados UE", and click on "aceptar".

Read the information carefully, and click on "entrar".

Fill in your basic information using your passport, name and surname, nationality, and click on "aceptar".

Select "seleccionar cita", and you will automatically see the address of the foreigner's office that corresponds to you.

Choose the date that suits you best.

Check the option "Deseo correo electrónico para recibir los datos de mi cita" to print the confirmation.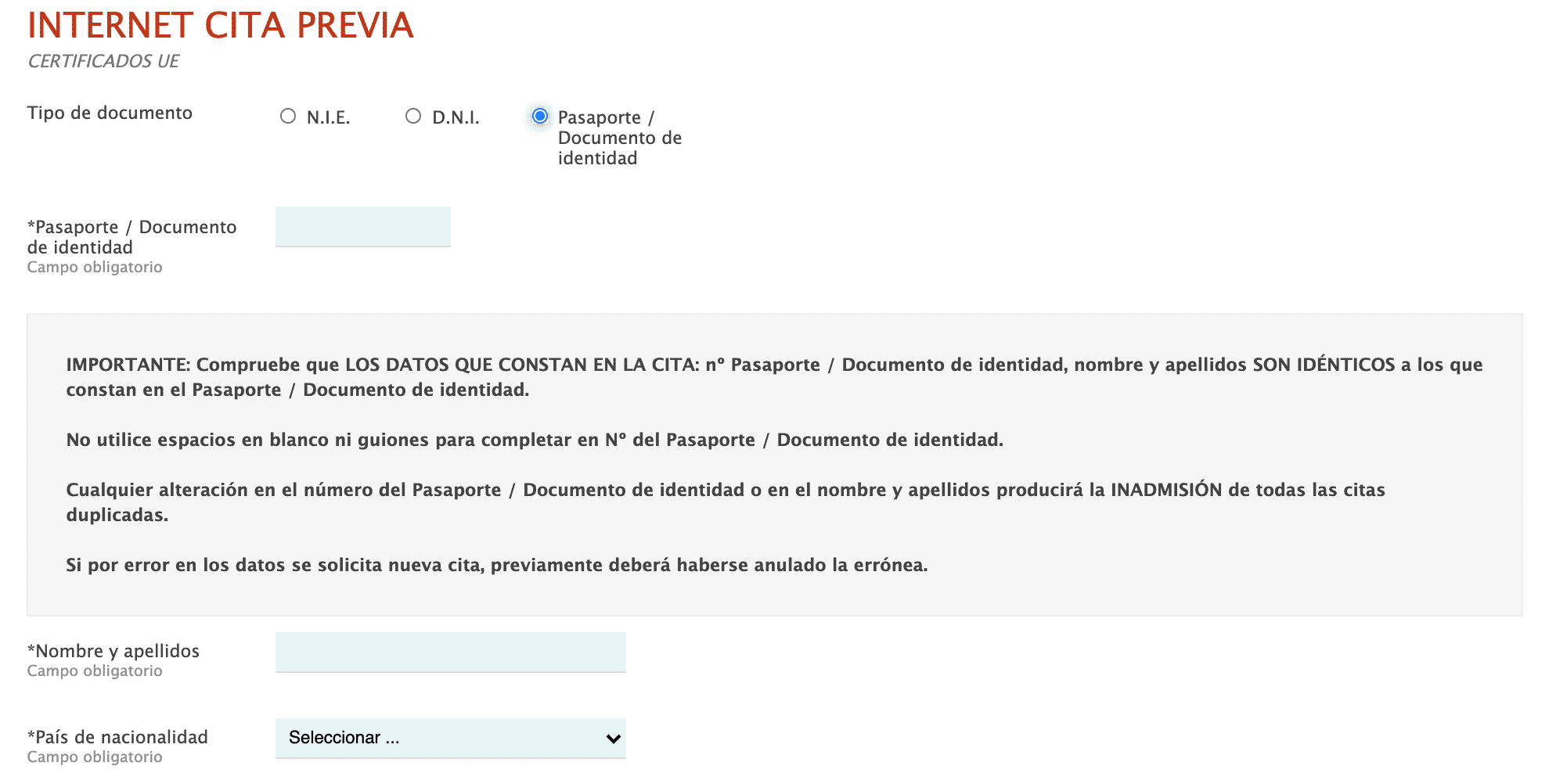 How long do I have to renew?
You have a maximum of 90 days to renew your NIE. However, it is very important to make an appointment for the renewal before it expires. If your NIE expires and you do not have an appointment, you will be committing a serious infraction, hence not being able to renew your residence permit or stay in Spain (most likely).
Therefore, it is crucial to get your appointment on time. It does not matter if your NIE expires then: you can then show the receipt of your appointment and it will act as a valid document.
Finally, if your intention was to leave Spain and return to your home country, you will have those same 3 months to do so. After this period, if you have not renewed and want to return to Spain, you must start the application process from scratch.
Lockdown and renewals
Many of our clients asked us if the NIE could be renewed during the State of Alarm.
As you may know, the government issued a statement announcing that all residency cards that had expired during the lockdown were automatically extended for a period of 6 months (and 3 for stays, whether tourist or student), from June 21st onwards.
So, if this is your case, remember that your NIE automatically has a longer validity; and you will not have to renew it until the new date arrives 6 months later. So it is highly probable that you don't need to get your appointment yet.
Do you need legal assistance?
Here are all the requirements and step-by-step procedures for renewing your NIE number.
However, if you still have any doubts, our team of immigration lawyers is here to help you. You just need to explain your case to us through the email you will see below and you will get an answer asap!
Also, remember that we can also manage the entire renewal for you so that you don't have to worry about anything.
Book a consultation with one of our lawyers and solve all your doubts: