If you are planning to travel to Spain and get your business visa, then keep reading. In this article, we will explain how to get it step by step, which are the different types, documents and requirements, and some useful tips that will make your application easy and successful. 
Types of business visas
In Spain, there are three types of business visas. Depending on how long you want to stay in the country and which are your plans you will choose one or the other.
Let's analyze each of those three paths that will enable you to do business in the country. Carefully understanding an analyzing the requirements for each will be essential when choosing your path. 
Schengen business visa
As we saw in our article regarding the different types of visas in the country, If you are planning to visit Spain for less than 3 months for business purposes, this is your visa.
That is, if you must attend a business event, have several meetings with some clients, take part in any kind of training or perform other similar activities required by your company, the Schengen business visa will be the go-to option.
It's the equivalent document to a tourist visa when you will stay in the country for less than 90 days, but in this case, the reason for your trip is a professional one.
Obtaining it is really easy. 
First of all, you will need to get an appointment at the Spanish consulate or embassy there where you are currently living (before traveling to Spain). During the appointment day, you must fill out the corresponding application form, pass an interview, and pay the corresponding fees (which range from € 35 to € 80 depending on your country) which you can discover here. 
Which documents will you be asked to submit?
A bank statement demonstrating the possession of sufficient economic funds to sustain your stay in Spain (95€ per day)

Hotel or apartment reservation for the days you will be in the Spanish territory

Invitation from the Spanish company with which you will meet, or training/event/conference ticket

Original passport and two photos

Round trip plane tickets

Travel health insurance
Can you work with a Schengen business visa?
No. You cannot work with this type of visa. The main reason of why it has been issued is to enable you to stay in the country to perform any kind of meeting or to attend a training, conference or business event.
But at no time you are allowed to performed economic activities that will enable you to earn money in Spain. 
Any kind of business-related activity you perform must be unpaid (or paid by your company in your country of origin). 
If you have any doubt, ask anything to our lawyers here or keep reading for more information:
Who needs a short-stay business visa?
Non-EU citizens who want to stay for a maximum of 90 days in Spain, following the 90-day rule. Nevertheless, there are some exceptions. There are several groups of individuals who don't need to request this type of visa and can enter the country without it (even though they still need to meet the entry requirements):
Those with a residence permit in any country within the Schengen area

Citizens of any European Union country

Members of any of the 62 countries that do not require a Schengen visa to enter. You can find that list here.
Remember that no matter if you need to apply for a visa or not, you always will have to meet the specific entry requirements, which you can find here.
What happens if my application gets rejected?
Got your business visa application rejected? No need to worry, those things happen. 
Perhaps you missed any of the specific documents required, or something was not properly submitted. 
No matter the denial reason, you can still appeal and finally get your visa. Along with your negative response, the Spanish consulate will explain the denial reason. You can use that information to prepare your application again or to directly submit an appeal if you don't agree with the decision and would like to dispute it.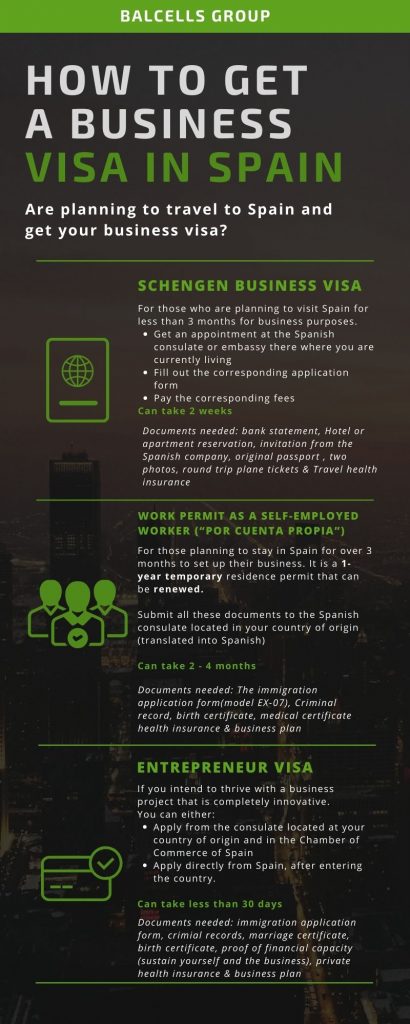 Work permit as a self-employed worker ("por cuenta propia")
If you are planning to stay in Spain for the long-run (or at least over 3 months) because you want to set up your business in the country and make a living out of it, this is one of the two available options for you. 
If your plan is openning a type of business that already exists, that is not quite innovative and not technology-intensive, the regular work permit is the path to follow. 
That is, if you want to open a coffe shop in Spain, work as an online marketing freelance or graphic designer, this is your preferred legal option. 
Regulated by the 2001 immigration law, it is a 1 year temporary residence permit that can be renewed for 2 and then again for 2 extra years (after those 5 years you can apply for PR). 
How does the process work?
The first step is preparing all the required documents from your country of origin. We are talking about:
The next step will be preparing your busines plan, which is a crucial part in the process. This business plan must clearly explain the business you are trying to set up in Spain. It must show proof that you already have a physical place to develop your activity, that you already have 3-5 clients confirmed (which gives credibility), and that you possess enough economic funds to finance the day to day operaitons (exact amount will depend on the business type).
*All documents must be translated into Spanish by a sworn translator. 
You will need to submit all this documenst to the Spanish consulate in the region in which you current havel legal residency. They will send your applicaiton to the delegation in the provicne you will start living in Spain, institution in charge of analzying your business plan and submitting a favorable response. After that you will get your visa stampted on your passport, and you will be able to enter the country. 
Entrepreneur visa
Let's say, on the other hand, that the business project you intend to thrive with is completely innovative and something the market hasn't yet seen before. It involves a high level of technology and related complexities, something a regular worker would not be able to do.
Then the entrepreneur visa is your working visa.
This type of work permit is regulated by the Law 14/2013 for startups and entrepreneurs, created after the Spanish crises to attract talent and powerful projects for the country.
There are two different alternatives when it comes to obtaining it:
The first option is following a similar path as the one seen in the prior section and apply from the consulate located at your country of origin and the Chamber of Commerce of Spain there.
Nevertheless, one of the main upsides of this visa is that you can also apply directly from Spain, after entering the country. In this case, you would have 90 days since your arrival, and the institution in charge would be the UGE ("Unidad de Grandes Empresas").
Which are the documents you must submit in this case?
The corresponding immigration application form

Crimial records

Marriage certificate

Birth certificate

No medical certificate is asked for this visa

Prove that you have enough financial capacity to sustain your life in Spain and to also finance the business idea, at least for the first year

Private health insurance
And, finally, the most important of all the requirements for this special type of working visa: the business plan. In this case, it must be very qualified, ad it's a restrictive part of the process (the immigration authorities are really selective and can deny your application simply because of that). 
And that is because, in order to get your project approved for the startup visa, it must be really attractive for the country, including a high level of innovation and be unique, an important capacity of growth, create employment, and if it's digital, better.
This is not required in the regular work permit, but is crucial for the entrepreneur visa. And the place in all of this is demonstrated is through the business plan, hence its importance. Here you can find a complete guide with really useful tips to craft the perfect business plan that will grant you a successful application. 
How long does it take to get a business visa?
It depends on the type. for the Schengen business visa it takes 2 weeks after you submit your application, even though this process can be delayed if the consulate gets too many applications at the same time. That can slow down the process for 30 days. So our advice is that you start your application as soon as possible, but remember that you can submit it a maximum of 6 months before traveling to Spain.
For the regular work permit, it can take from 2 to 4 months to get a response. After that, you will have 1 month to enter the Spanish territory. 
Finally, the entrepreneur visa works really fast (as it is under the Entrepreneur's Law), and you can get a favorable response in less than 30 days. 
Start your application here
Would you like to get your business residence permit as fast and as easily as possible? Then let our team of immigration lawyers help you out.
We will prepare all the documents for you, guide you step by step, and manage the whole application so you don't need to worry about anything. 
Immigration to Spain made simple!
So stop wasting time and money searching online, send us an email, and let our team help you out.