If you have made the decision to start a new life in another country, or simply want to spend some time away from home, keep on reading. In this article we are going to convince you about why Barcelona is the idyllic place to do so. While we will address the possible cons of the city, by the end of this article you will see how your desire to settle in the Catalan capital has been radically increased. So, what are the 8 biggest advantages of living in Barcelona and why is it the right thing to do?
Perfect climate all year round
We will start with one of the biggest clichés, but i is no less important or positive for being a cliché.
While it is true that during the summer months (June, July, and August) it is quite hot, the climate in the city is very close to ideal.
With average annual temperatures of about 26 ºC, Barcelona offers the perfect atmosphere.
And that is not only due to its privileged geographical location, but also to the effect of the sea, which softens the climate.
Winters are by no means dull. The rain is not something you see every day, and temperatures (which can drop to a maximum of 5 degrees at times) are more than bearable with just a coat.
That makes the city's atmosphere lively and energetic from January to December, with constant movement and people in the streets, terraces, and bars; and with enough hours of sun throughout the day to carry out all kinds of activities (¡all year round!).
If there is something that helps to be a little happier is the sun. And, when living in Barcelona, that is something you will never lack.
Varied (and delicious) cuisine
Clearly, food is a matter of taste, but what no one can deny is that Mediterranean cuisine is delicious.
Not only can you enjoy tasting each and every one of the traditional dishes cooked in the city, but also, those are part of a healthy way of eating, allowing Spaniards to enjoy one of the highest life expectancies on the planet.
Thus, lovers of good food will feel right at home in Barcelona; especially if we consider that you can be really satisfied eating while enjoying cheap prices. As a reference, you can easily find half-day menus for around 10€.
The local food so characteristic of the city abounds on every corner, so trying good tapas and paella will be the common thing to do.
However, being a multicultural city, you can also find plenty of international food places: Barcelona is also the ideal place for foodies who share everything on social media.
Our recommendation is to always try to go to the traditional local places to experience the true essence of Catalan and Spanish cuisine, and platforms like The Fork will allow you to find new restaurant ideas with great discounts.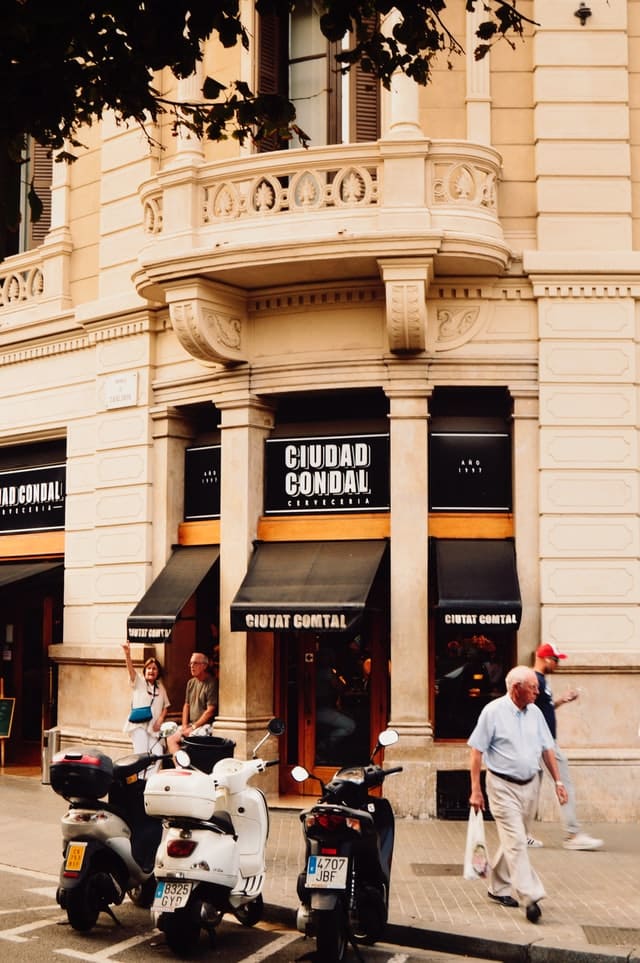 Privileged location surrounded by amazing places
If you are one of those persons who like to do things and move around during the weekend, explore new places, or if you feel like discovering more than what the city you live in has to offer… You will find that Barcelona is located in the ideal place.
Just a few kilometers away you will have at your disposal mountains and hills where you can do amazing hikes (such as those in Montserrat, Matagalls, or Turó de l'Home).
If you go north, you will find the Costa Brava and its wonderful coastal villages, among which stand out for example Cadaqués.
And if you go south, you will reach Tarragona (an area with great history) or the Ebro Delta; more places that you must visit during your stay.
In short, the city of Barcelona will become your base of operations where you will have a great diversity of landscapes, towns, and unique places that are worth discovering and that will fill your weekends with memorable plans.
A great diversity of neighborhoods, all preferences covered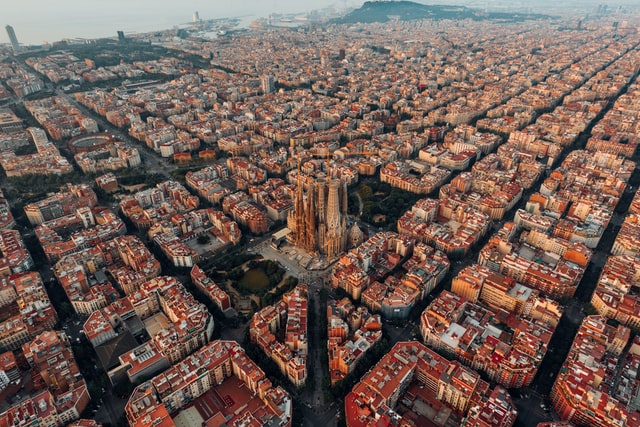 It is true that in the center of Barcelona there can be a lot of noise. Lots of people, a vibing atmosphere, and lots of tourists. Besides, we can't deny that this very center offers quite high rents (especially if we take into account the purchasing power that the average salary allows in the city).
But there is a characteristic of Barcelona that puts a solution to this fact, and it is the great variety and diversity of neighborhoods and areas, not having one equal to another.
From more bohemian neighborhoods like Gracia, to others that evoke a more residential feeling like Sants, or a quieter one like Poblenou.
In this great city, you will be able to find the place that best suits your needs, and that is possible thanks to how radically different some areas are from others.
And, in addition, it does not matter how far you are from the center, because thanks to the factor that we detail in the following section, the distances in Barcelona will never be a problem.
A very complete public transport system
We can say that one of the things you will appreciate the most when living in Barcelona is its efficient public transport network, the second most extensive in Spain.
You have metro, bus, streetcar, train, and even bikes, which will allow you to get to the other side of the city in record time.
It is true that public transport tickets are quite expensive (2,40€ for a one-way ticket and 11,35€ for a 10-way ticket), but the city is perfectly connected by its large number of lines, running with a high frequency that makes waiting times very low.
In addition, the transport network extends throughout the whole metropolitan area (reaching many cities and areas outside Barcelona).
Thus, even if it is a big city, the car is not strictly necessary anywhere you go.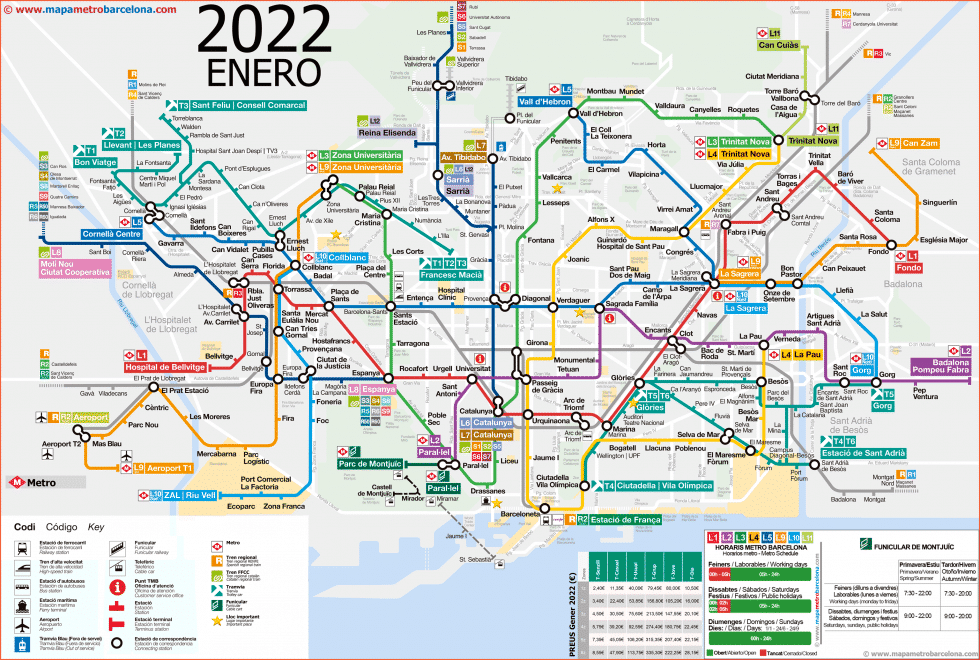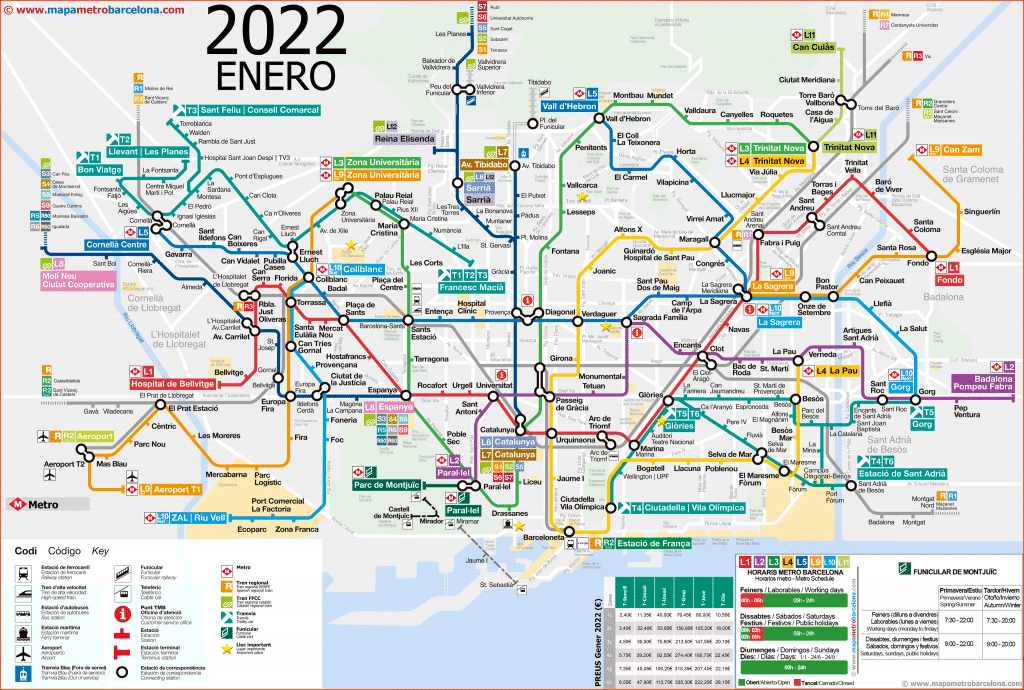 The perfect combination: city + beach
Another pro of living in Barcelona is that it is located between sea and mountain (with city in between). So if you are one of those who do not know how to choose, you will have both.
One of the main and biggest differences with Madrid (and the one that makes many people finally choose Barcelona), is the beach.
Contrary to what happens in many other cities, the beach is not only completely attached to Barcelona city, but it is also one of the main engines of its vitality and atmosphere. It extends throughout the entire metropolitan area and brings together large numbers of people (whether to sunbathe, swim, read, play volleyball, or carry out any other type of activity), both in winter and summer.
But what happens if we turn and look to the other side?
We find mountains. The landscape in the northern neighborhoods of the city is completely different, much greener, and dominated by amazing views of the entire city (being this part much higher than the rest).
A great example of this is the images that your eyes can capture from the Bunkers del Carmel, or through a refreshing walk along the Carretera de les Aigües.
Thus, Barcelona offers a varied landscape of beaches and mountains that offers everything you need to enjoy a pleasant lifestyle.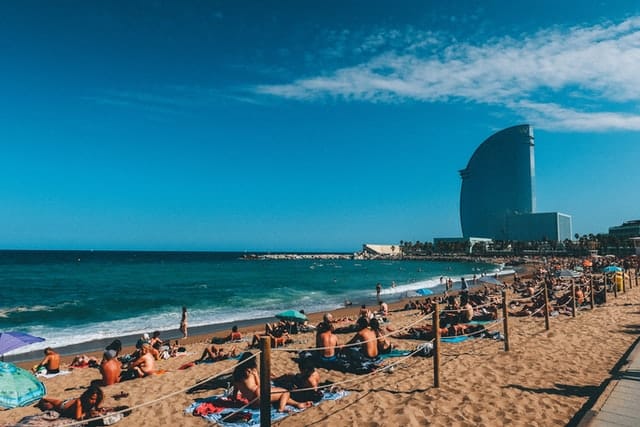 Communities of foreigners and the ease of meeting new people
Another key factor that makes it ideal to live in Barcelona as a foreigner is that it is one of the cities around the world that receives more tourists.
Many of them, delighted with what they see, decide to stay for the long term, thus creating a large number of communities of expats from all regions of the planet and nationalities.
But not only that: there are also many Spaniards from other regions of the country who decide to move to Barcelona.
Whether foreigners or nationals, they all have one thing in common: the desire to meet people and make new friends.
And that is why the opportunities for integration abound here.
In addition, it is something that is enhanced by the huge amount of events that take place in the city, many of them organized by foreigners (you just have to take a look at websites like Meetup to find out more).
If we add to that the fact that English is a widely spoken language in the city, your chances of creating a new social circle will be very high.
However, although English is commonplace due to the large number of tourists and foreigners who are in the Catalan capital, we must warn you about something crucial.
It is true that if you do not speak Spanish, you may have it a little more complicated with documentation and legal procedures. That is when having an expert lawyer next to you will be essential to guide and accompany you step by step.
Work and job opportunities
In terms of the job market, there are great opportunities and prospects for career growth.
One of the most relevant facts to consider is that Barcelona is already one of the most important startups and entrepreneurship hubs in Europe.
This means that a large number of companies are created and set up in the Catalan region, attracting not only investment but also foreign talent.
Thus, new job positions are constantly being created, generating great opportunities for foreigners from all over the world, especially in the IT sector, digital marketing, product development, and growth.
But there are not only opportunities for the most qualified profiles.
In addition to that, the tourism sector, which remains the main engine of the Spanish economy, also demands a lot of manpower. Therefore, finding a job as a foreigner is not a difficult task.
In relation to working life, another important point to highlight is the possibility of combining work with personal life and leisure. Once the working day is over, it is very common to meet with other colleagues or friends in any bar to have a drink and enjoy the good weather and the atmosphere of the city.
And here are what we consider to be the 8 most important reasons to start living in Barcelona as en expat. While it is true that there are other great alternatives (you can find our top picks here), the Catalan capital is the favorite for many, and these reasons more than explain why.
If you have any doubts or would like to receive legal advice from our immigration lawyers, do not hesitate to contact us. We will make your relocation process much easier. 
Book a consultation with one of our lawyers and solve all your doubts: