If there is something that generates headaches, that is tax payments. Seeing how part of the revenues we generated ourselves vanish automatically is something we all want to avoid. And, even though that task is not 100% doable, the Spanish law creates some great opportunities available to us that we should not dismiss. Like this, today we are presenting to you the Beckham Law, a huge advantage to save taxes for those expats that want to come back to work in Spain.
What is the Beckham Law?
This normative, regulated on the section number 93 of the Spanish Income Tax Act, allows all the workers who reside abroad that want to come to work in Spain to pay income and wealth tax as if they were non-residents during the first 6 years.
We are facing a measure whose main purpose is to attract talent and qualified workers into Spain. How does the law pursue this incentive? Those individuals who start working in Spain will tribute at a fixed 24% rate up to the amount of 600.000€. In the case that income exceeds the top amount, the worker will be charged a fixed type of 45%.
The Beckham Law implies, without any, doubt a great advantage for tax savings, as the flat tax rate of 24% is much lower than the rates that Spanish residents do face, which can rise up to 45%.
If you want to learn more about the Spanish taxation system, do not hesitate to visit our post regarding which are the taxes paid in Spain in 2019.
Other Applications of the Beckham Law in Spain
Furthermore, another of the upsides of this non-resident income tax is the application to the inheritance and donations tax as if the individual was a Spanish resident.
Capital gains are not exempt either. Dividend gains, as well as profits obtained through the sale of both movable and immovable properties, will be charged at a fixed rate of 19%.
Under this special regulation for foreigners, the property tax will only be applied to properties held in Spain. Therefore, a wealth tax in a portfolio of 3 million will only amount to approximately 1.79%.
As you can see, taxes do have a lot of nuances, so learning all the details is key if you want to plan and optimize your taxes in Spain. 
Taxation of Worldwide Income
The Beckham Law also presents other advantages. The worker will just need to pay for the incomes generated in Spain. This eradicates the need that tax residents have to pay taxes on their incomes they obtain worldwide.
There is no denying the fact that this is a completely benefiting point. You will be able to diversify your sources of income and investment so you pay the lowest possible amount. 
For more information regarding how does the worldwide income taxation works, do not hesitate to visit our blog post in which we specifically target everything related to the income tax. 
Requirements for the Application of the Beckham Law in the Spanish Territory
This regulation is applicable, as we have indicated, for expatriate (expats) workers. But, also, for those individuals who come to Spain to work as administrators. In this particular case, the administrator can not have more than 24% of the company for the law to be applicable and thus benefit from tax savings.
Another important requirement is the need to inform the competent authority. In this case, the worker must inform the Spanish Tax Administration within a period no longer than 6 months after arriving in Spain.
Finally, the application of the expats regulation will only be valid for a period of 5 years maximum for the worker.
Summary: If You Are an Expat and Want to Save Taxes Coming to Work in Spain…
Summary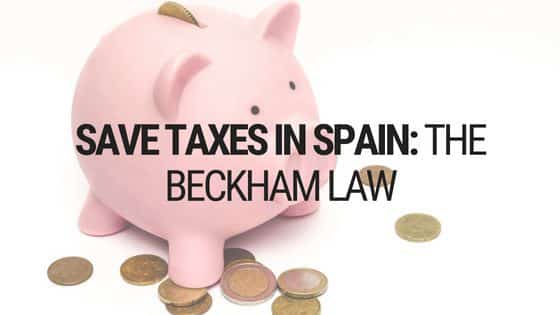 Article Name
How To Save Taxes in Spain: Beckham Law
Description
Would you like to pay a flat fee rate of 24% instead of 45% on your incomes in Spain? Then the Beckham Law is for you. Learn here how you can benefit from it.
Author