Perhaps there is no other country in the world so ideal for foreigners. Climate, food, landscape, people, work-life conditions, living costs… Anything that can come to mind is basically perfect for your new life abroad. And in this article we will demonstrate why. If you want to access the most complete guide that will teach you, step by step, how to relocate to Spain… then keep reading!
Is relocating to Spain a good idea?
The answer to this question is self-evident. The name "Spain" has associated nearly all the words that make a great living possible.
Perfect weather the whole year. Amazing food that makes you want to go out for dinner every single day. Friendly and open-minded people that make it possible to strike a conversation everywhere. A culture that puts important stress on work-life balance so you can't get saturated from your job. And a diverse landscape within the country that offers both mountain and sea, both amazing beaches and trekking routes.
What else would you want?
That is Spain. And that is something foreigners from all around the world have already experienced, hence making this country so full of them.
Therefore, the answer to the question can be already found. Yes, living in Spain is a good idea. But throughout this article, we will convince you with all the remaining factors.
Is it hard?
The relocation process in Spain is not hard.
Nevertheless, we must make an important distinction.
If you are a citizen of the European Union, the process is completely easy. And not only due to the geographical proximity, but also because all the different legal procedures you will need to realize.
On the other hand, things can get a bit more complicated if you are from outside the EU. That means obtaining a residence permit from 0 (unless you already possess the permanent residency in any other European country), and the requirements can be a bit tough sometimes.
But that is not an issue that should prevent you from considering Spain as an option. As we will see in a moment, the catalog of residencies is quite large, so finding one that perfectly fits your situation is entirely possible.
Besides that, if you follow the right legal advice there won't be room for errors.
And, also, nowadays you have all the information that you need online. There are tons of expat groups who have already moved to Spain and who are willing to help anyone. So if you need to get those inputs that will clear your path and make relocating to Spain something simple, you just need a computer and internet connection.
Where should I relocate to Spain?
Spain offers a completely varied landscape. You have colder and more mountainous areas in the north, and all the perfect beaches and good weather in the south.
Each city and region is unique, with its own culture, gastronomy, and people.
This, for sure, is a completely positive aspect when moving to the country. You could be traveling within the Spanish territory and never get bored, always learning something new and getting amazed by what you find.
But it also poses the difficult question of where to settle. Madrid or Barcelona? Should I go to Valencia or start living in Sevilla?
While in this article we talked about why Barcelona is our top choice… Our best advice here is simple: discover it by yourself.
The exact decision will entirely depend on your personal preferences, so what would be best than finding it out in person?
Once you arrive in the country, spend the first weeks or months traveling around. Visit the north, center, and south of the country. Try to experience as much as possible what it would be like to live there, and after you have been able to visit the main spots, come up with a decision.
That is the only way to really find what you need!
Do you have any doubts so far? Ask our lawyers anything:
Main issues to consider
The relocation process involves many aspects. From all the legal issues you will need to solve, to housing, and working in the country. That is why we have devoted one section for each of the main pillars that will affect your life as a foreigner who has relocated to Spain.
Let's see them in detail!
Transportation
The first step in the journey will be everything related to physically transporting yourself to Spain.
You will not only need to move yourself to the country but perhaps also bring with you your belonging.
But you are lucky here. Europe is one of the main transportation hubs worldwide thanks to its geographical location. Hence, no matter if you bring your household goods by sea, air, or land, you won't experience any difficulty.
Just make sure to compare the main reliable companies so as not to pay an excessive price, and you are set to go.
Nevertheless, we also remind you that any belongings will need to go through customs, those will be carefully checked. Some items may be forbidden or restricted, and you will need to declare them.
Hence, make sure to check beforehand what you can and cannot bring to Spain, and also with are the maximum quantities.
But what happens if you also want to travel with your pet? The process is completely simple.
Basically, you must first get your dog or cat vaccinated against rabies and other similar diseases, and have an ISO chip. They cannot enter the EU if they are less than 3 months old, and you can bring, maximum, 5 pets with you.
Here you can find a complete guide including all the regulations that will help you travel to Spain with your pet. 
Immigration: Visas and Residence Permits
This will be for many the most tedious part. Because if you are planning to live in the country for the long-run, you must arrange your legal situation as a foreigner in the country.
How to do it?
That will depend on whether you are an EU citizen or not.
If you are, good news. You will just need to get what's call the EU registry certificate and your NIE number. And with that you will be able to legally stay and work in the country.
But what happens if you are not?
If you are a non-EU citizen you may be required to get a short-stay or tourist visa for the first 3 months in Spain. And, if you are planning to stay longer than that, you need to apply for a regular temporary residence permit. Bear in mind that, even though it is possible to get your residence permit while on a tourist visa and without leaving the country, the available options will be reduced then.
That is, you will need to check which are all the different paths available, and as all of them have different requirements, find out the one that best fits your situation.
For example, if you are not planning to work in the country you may apply for a non-lucrative visa; if you are willing to invest in the country then the golden visa is the right option, etc. The thing is that depending on your plans and current situation one would be more advisable than the other.
Here you can find a complete list with all the residencies and their requirements.
Nevertheless, there are certain requirements that are fixed no matter the permit:
Finally, and as an endnote, bear in mind that many residence permits must be applied from your country of origin. As a general rule, you can't get your residency after entering Spain with your tourist visa, unless the one you apply for is under the Entrepreneur's Law.
Working in Spain
This is another of the most important pillars of your new life in the country: working.
First of all, you will need to get a social security number to start working in Spain. Obtaining one is completely simple, and can be done in less than 1 hour in the Oficina de la Seguridad Social.
As we mentioned in the previous section, if you are an EU citizen it will be enough to get your EU registry certificate and NIE to start working.
But if you are from outside Europe you must first apply for a work permit. Is it possible that the residency you get already offers you the possibility to work in the country, meaning it is in itself a work permit (like the golden visa or the family member of an EU citizen permit). But if that's not the case, you will need to get a regular working visa.
The unemployment rate in the country is quite high, especially after the 2008 crisis. And it is even higher if we consider the youngest segment of the population. For any job position you will be facing the competition of many applicants, both national and foreigner, so make sure to start looking for a job offer from your country of origin good time before relocating.
Nevertheless, cities like Madrid or Barcelona have recently become important startup hubs within Europe, with a marked entrepreneurship spirit. Hence, opportunities there abound, especially for young talent.
Furthermore, many multinational or international companies that have their offices in Spain need people who speak foreign languages, so that could open many doors for you.
Also, the business culture and etiquette in the country are really particular, and trying to understand it beforehand will be crucial before your move. Here's a complete guide with really useful tips to negotiate, communicate and do business.
Finally, let's talk about how idyllic is the working life in the country. 40 hours of work per week, but with many after-work social gatherings that make the week easy to navigate. 14 days of national holidays per year and 22 calendar paid holiday days.
The Spanish work-life balance may be one of the best in the world.
Cost of living
Is it expensive to live in Spain?
No. One of the reasons the Spanish territory is the ideal place to relocate is its cheap living costs. If you compare it with the main European countries, Spain will always win in that battle.    
And yes, Spain is cheaper than the UK or the US. There is no doubt about it. Just to give you a broad idea, you can retire in the country with 20.000€ per year, and enjoy a decent and pleasant quality of life.
Of course, big cities like Madrid or Barcelona do enjoy higher costs, basically due to rental prices. But if we take into consideration how cheap it is to go out for lunch or dinner, the cost of groceries, utilities, and all the other price points that sum up at the end of the month, the country is still completely affordable.
But, surely, this has a downside: salaries. The average wage is much lower than if compared in the UK, France, or Germany; and that is something you can really feel when working for a Spanish company.
At the end of 2019, the average salary was 1,695 euros and the minimum wage is € 950 per month (if paid in 14 payments).
You can learn more about the Spanish labor market in this guide.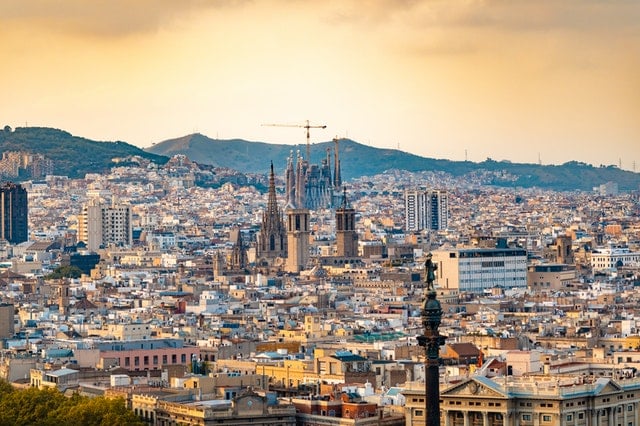 Accommodation
Your accommodation or housing decisions will be one of the main costs for your new life abroad. That is why having careful considerations with everything that is related to it is crucial.
Our recommendation is simple. The first thing you must do when arriving in Spain is staying at a hotel or Airbnb while you are looking for a flat or house to rent. Why? Because you should not sign anything before you have seen it in person.
This will avoid many problems that could cause you to lose money.
Before arriving in the country, you can search online to have several options. But don't agree on anything until you have arrived at your city and visited the apartment in person.
Where should you look for a flat or house to rent? The main platforms are:
Or even expat Facebook groups
Here you can find an article full of useful tips that will help you navigate the renting process easily as a foreigner.
On the other hand, it will also be important to decide between buying or renting.
But we can also follow the same recommendation given in the first section, which was that you need to first travel the country before choosing the place to settle in. Hence, what we suggest here is to rent first while you travel or while you find a really nice house.
Once you have 100% decided your ideal place and found the perfect property, buy.
The real estate purchasing process is a bit more complex, and it is necessary to be 100% sure before facing it.
Of course, buying has its upsides, as obtaining a golden visa if you invest over 500.000€ in your real estate purchase.
Opening bank account
Opening a bank account is a crucial aspect of your relocation process. Because yes, you should really do it. Why?
First of all, because it will save you money. You will avoid fees when withdrawing money from an ATM or paying any price. And of course, avoid the tedious currency conversion and the possible associated charges.
But not only that. Many service providers in the country, like telephone or utility companies, won't accept you as their client unless you pay with a Spanish bank account.
So opening one is the way to go.
Which are the requirements?
In fact, it's really simple. You will just need to submit your passport or ID card, proof of your address (in Spain), employment status proof (if you are unemployed you can use government letters confirming you get financial help from them), and some banks will require a non-resident certificate if you spend less than 6 months per year in Spain.
You can even open your bank account while still being abroad. Learn here how.
Taxes
The big headache for many. Because no matter if you are a resident or not in the country, you will need to pay taxes at the end of the year and file a tax return.
But how does it work and which are those taxes to be paid?
As you can see, there is this first distinction between residents and non-residents. If you spend over 183 days per year in the country (hence becoming a resident), you will pay taxes for your worldwide income in Spain.
But thanks to double treatment conventions you won't pay twice (first in the country where you generated the income and second in Spain), just here.
The basic tax anyone pays in the country is the income tax, which goes from 19 to 45% depending on the amount of money you earn at the end of the year; which must be paid and declared annually through your income tax declaration ("declaración de la renta").
But there are other taxes that can affect you depending on your operations, like inheritance tax, capital tax, or non-resident tax.
Click here and access a complete list with all the taxes for foreigners and their exact percentages.
Childcare and children education
Where should you bring your kids? Which type of school?
In Spain there are three types of education systems: public (totally free), private and what's called "concertado".
Choosing one or the other will depend on your preferences. For example, if you want to bring your kids to an English school, then you need to go via the private path. 
Nevertheless, public education in the country is of great quality: high-level professors, more than decent infrastructures, and an inclusive atmosphere that makes it really easy for foreigners to integrate and socialize with their peers. 
If you need extra information regarding the different educational stages by age, additional tips for choosing the best school or nursery and average prices, you can visit our complete guide on childcare in Spain.
In addition, you may have to validate your university or professional degree in Spain. Access here a complete guide on title recognition for foreigners. 
Get help relocating to Spain
And up till here everything you need to know to relocate to Spain.
Even though the country offers the perfect conditions for that, as you can see there are tons of different issues to consider. That is why getting the right help is crucial: it will make your life simple. 
At Balcells Group we want to clear your path and help you start living in the country as smoothly as possible. So if you have any questions or need expert assistance with any issue we've covered so far, do not hesitate to reach out to us. 
Our team is happy to help!
Book a consultation with one of our lawyers and solve all your doubts: